Benefits of a 7 seater car
If you have a large family, enjoy going on outdoor adventures or often travel as a group, you might want to consider a 7 seater car. There are a wide range of 7 seaters on the market, all with innovative technology and no compromise on style or design.
7 seater cars are becoming increasingly popular, with more and more manufacturers bringing them to the market as part of their range.
Benefits of 7 seater cars
7 seater cars come with a host of benefits:
More economical
This might seem like a bit of an oxymoron – having a larger vehicle that is more economical, but if you are travelling as a large group or have a larger than average sized family, a 7 seater car can make complete sense. The alternative would be to take multiple cars on the same journey, which ultimately costs more money as there's two lots of fuel costs and two lots of parking charges to take into account.
New vehicles are often much more efficient and economical due to the latest technology, so you may find a brand new 7 seater car is more economical than an older, smaller model.
More space
This might seem obvious on the surface, but not only is there more space for additional passengers, there is usually additional boot and storage space too, so your passengers aren't sat surrounded by their luggage which can become uncomfortable on long journeys.
7 seater cars by boot space:
| | |
| --- | --- |
| Make/Model | Boot Space |
| Kia Sorento | 142 litres |
| Citroen SpaceTourer | 165 litres |
| Citroen Grand C4 SpaceTourer | 165 litres |
| Citroen Berlingo | 186 litres |
| Ford S-Max | 285 litres |
| Ford Galaxy | 300 litres |
| Hyundai Santa Fe | 547 litres |
This additional space can also be occupied by large equipment, such as surf boards, which would otherwise struggle to fit safely inside a vehicle.
7 seater cars generally have a modular design, meaning you can fold down the rear seats as and when you need to, in order to create additional space.
Towing capabilities
7 seater cars are not only capable of towing a caravan, but they also make light work of doing so too. There are legislations around what cars can and cannot tow and the weight limits associated with towing, so it's important to take this into account when looking for your next car.
If you will be taking regular staycations or heading over to Europe in your vehicle instead of flying, a 7 seater would certainly provide that much needed comfort and practicality.
Considerations of a 7 seater car
Whilst there are plenty of benefits of investing in a 7 seater car, there are also considerations to be made before your purchase to make sure you find the perfect solution for you and your circumstances.
Rear seating
The rear row of seats is usually more suited to children as it can be a much tighter squeeze for 7 adults to travel comfortably, but this depends entirely on the model you choose, which is why it's important to take this into consideration.
Parking
This one is pretty obvious; the larger the vehicle, the more space you require when parking. Although 7 seater cars aren't as large and bulky as they used to be, it's still a consideration, especially if you will be using a garage to store your car overnight.
What 7 seaters are on the market?
There are a wide range of 7 seater cars on the market today, so you aren't stuck with just one option. In fact, 7 seater models are some of the most stylish models in manufacturers ranges.
Citroen 7 seater cars
Citroen were one of the early adopters in 7 seater cars, with models targeted mainly to corporate travel for large groups and large families. The Citroen range is not only practical and affordable, it's reliable and comes with a host of safety features as standard.
Citroen SpaceTourer
Considered an MPV or people carrier, the Citroen SpaceTourer is perfect for corporate travel or for those running airport transfers rather than large families.
Practicality
The sliding doors are one of the main selling points of the Citroen SpaceTourer, as they allow passengers easy access and makes it much easier to park in busy areas.
The SpaceTourer is modular so folding down the rear seats is incredibly easy, allowing you to create additional space in the boot area.
Comfort
Renowned for its comfort, the SpaceTourer features reclining backrests with a headrest, armrest and room for passengers to stretch their legs by adjusting the rear seats.
Citroen E-SpaceTourer 7 seater electric car
Electric cars are becoming more popular by the day. Citroen's E-SpaceTourer is ideal for those looking to reduce their emissions and their overall operational costs. The E-SpaceTourer can be charged to 80% in just 30 minutes using a rapid charge point, so there's less downtime. With this 80% charge, you can expect a range of around 112 miles.
Citroen Grand C4 SpaceTourer
If you don't need the large cabin space that comes with the Citroen SpaceTourer, the Grand C4 SpaceTourer is more compact, but still offers 7 seats so everyone can travel in comfort.
Practicality
Offering unparalleled modularity, the Grand C4 SpaceTourer is ultra spacious, meaning there's more than enough room for the whole family as well as their luggage. With an incredible 704 litres of boot space (going up to 2,181 litres with the 2nd and 3rd row folded down), it is also the perfect option if you have a hobby that comes with large or heavy equipment.
Style
The exterior of the Citroen Grand C4 SpaceTourer is incredibly dynamic, with a strong yet slender silhouette, shiny black rear chevrons edged with chrome and silver roof arches.
Inside the cabin, you have a choice of three ambience with optional massage function and lumbar support available.
There are 3 rows of individual seats which are identical sized reclining and sliding seats, making access incredibly easy and providing passengers with a truly enjoyable journey.
Safety
There's a wide range of safety features that come as standard with the Citroen Grand C4 SpaceTourer, including Active Safety Brake, Adaptive Cruise Control, a 360 park assist and driver attention alert.
For complete peace of mind, the Citroen Connect Box provides free, integrated Emergency & Assistance service.
Citroen Berlingo
The Citroen Berlingo is available in two sizes, with the XL version offering 7 seats, so it's easy to upgrade from the M version which has a standard 5 seats.
Practicality and modularity
The 3rd row of seats in the Citroen Berlingo are removable and slide forward and backwards to make accessing the vehicle incredibly easy. Not only this, you can also add larger items into the boot space for transporting from A to B.
Technology
You can take advantage of the 8" colour capacitive touchscreen that controls the cars features as well as dedicated smartphone storage which includes a magnetic induction charging device.
You can mirror your smartphone apps onto the touchscreen device so your eyes can stay firmly on the road at all times. Using voice control, you can generate a text message or launch a playlist without taking your eyes off the road ahead.
Ford 7 seater cars
The Ford range is incredibly diverse, so there should beno doubt that there are a couple of 7 seater cars to choose from, all with the standard features you have come to expect from Ford.
Ford S-Max
The Ford S-Max is a practical family car that does not compromise on style or practicality.
Comfort
Both the driver and their front passenger can take advantage of multi-contour seats that provide additional support and even a massage. The 18-way adjustable seats are certified by AGR (Campaign for Healthier Backs) and are also recommended by physiotherapists.
The panoramic roof creates a much more natural environment allowing additional light into the cabin.
Practicality
There's incredible versatile and flexible seating with the S-Max, meaning you can fold down the seats in the rear to provide a much more dynamic space for large items such as surfboards or luggage.
One of the most attractive features is the keyless system that allows you to access the car whist your hands are full. Busy parents can place the key in their pocket or handbag and, as long as you are in range, you can unlock the vehicle remotely.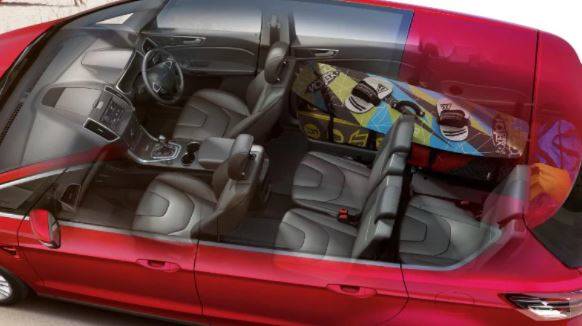 Technology
When listing the safety features, the Ford S-Max does not come up short. Some of the driver assist features include Traffic Sign Recognition, Electronic Stability Control and Emergency Brake Assist.
Ford Galaxy
The Ford Galaxy is one of the franchises longest surviving models and still going strong. The large MPV is great for families who like to get out and about on a weekend.
Practicality
The Ford Galaxy is great for seamlessly switching between city commuting and weekend adventures. The 7 seats provide much sought-after room for larger families who want to travel comfortably, especially on longer journeys.
Comfort and Convenience
The multi-contour seats provide added support to the driver and their front seat passenger, as well as offering a massage function.
The effortless hands-free tailgate feature allows you to open the boot with just the movement of your foot underneath the bumper.
Safety
There's no shortage of safety and driver assist features with the Ford Galaxy, including Pre-Collision Assist which detects vehicles and pedestrians ahead in the road as well as an Intelligent Protection System that coordinates a series of safety systems for maximum protection.
Hyundai 7 seater cars
Hyundai are one of the market leaders in SUV's and have a wide range of options available to you if you are looking for your next family vehicle.
Hyundai Santa Fe
The Santa Fe is the largest SUV in the Hyundai range offering plenty of comfort features as standard and an aesthetically pleasing exterior.
Interior
The steering wheel has everything you need at your fingertips, allowing you to control your music and other car systems without taking your eyes off the road.
With the Premium model, you can take advantage of heated and ventilated seats as well as a two-tone colour scheme to really customise the Santa Fe to your liking.
The upholstered armrest is designed with comfort in mind and provides additional storage options to keep your belongings tidied away.
Technology
There's an electric tailgate, a one-touch walk to 3rd row function and KRELL surround sound which is available on the Premium models.
If you have small children, you can benefit from the Rear Occupant Alert which triggers a sound if the driver departs the vehicle whilst there is movement in the rear seats.
There's also a range of driver assist features that come as standard with all Hyundai models, including Blind Spot Detection System, Autonomous Emergency Braking and Lane Keeping Assist.
Kia 7 seater cars
Kia Sorento
The Kia Sorento is an incredibly stylish and sleek SUV that is packed with space for the whole family.
Performance
Available as a plug-in hybrid, the Kia Sorento is incredibly efficient without compromising on power or performance. If you do a lot of city driving, the Kia Sorento can drastically reduce your CO2 emissions.
The benefit of a plug-in hybrid is that you can benefit from shorter journeys that don't utilise any fuel, but you also have the opportunity to go further afield and make use of the fuel reserves.
Technology
There's a 10.25" touchscreen that sits in the centre console, providing you with all the information you need to get from A to B, including up to date traffic information and manage your smartphone apps from your car.
On more premium models, you can benefit from wireless phone charging, helping you stay connected at all times.
If you need help choosing a 7 seater car, speak to the knowledgeable team here at Perrys.
Written by Perrys | 7 min read
22 Oct 2021