What is the Difference Between Servicing and MOT?
Just like it's good for you to have a yearly check-up at the GP, your car also needs to be checked regularly to ensure everything is working as it should. There are two types of checks your car will need to undertake, a mandatory one known as MOT and an optional, but still thoroughly recommended one, called car service. But let's look more in detail below at the key differences between MOT and Service.
What is an MOT?
An MOT is a compulsory car inspection that must be performed annually to ensure your car complies with the safety requirements set by the DVLA. This test is required by law and needs to be done yearly once your vehicle has reached three years of age. The following will be checked during your MOT:
Licence Plate
Windscreen and Wipers
Lights (both internal and external)
Suspension and Steering
Brakes
Seatbelts
Fuel and Emissions
Horn
Body Work (including the bonnet, doors, mirrors, tyres and wheels)
If this type of test ensures that your vehicle is safe to drive, it doesn't guarantee that it's performing at its best, focusing on safety instead of the overall vehicle health. In fact, the MOT covers the car parts mentioned above; however, it doesn't inspect serviceable components such as spark plugs, engine oil etc; this is when a service comes in handy.
In an MOT three types of faults can arise when inspecting the car: minor, major and dangerous. A minor is something highlighted by the technicians that you may need to pay attention to in the future (i.e. a tyre approaching its legal minimum tread depth). In the event of a major or dangerous fault, these need to be fixed for your vehicle to pass its MOT.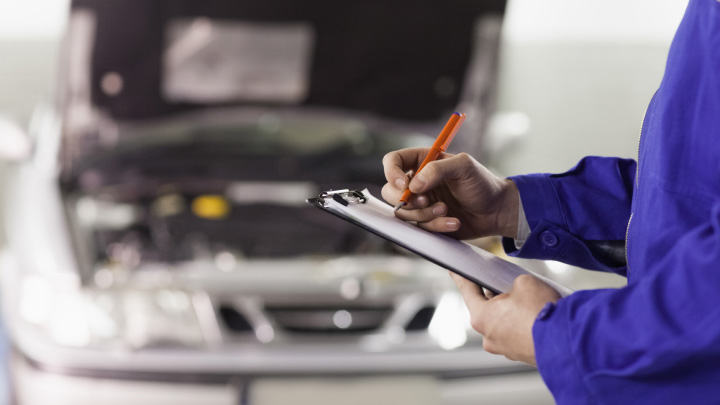 What is a Car Service?
Think of your car service as an in-depth inspection carried out by your trusted garage based on your car manufacturer's guidelines and recommendations.
You don't ever need your car serviced if you don't want to, but we wouldn't recommend this. Having your car serviced on a regular basis (usually based on service intervals stated in your vehicle handbook or manufacturer's website) ensures that your car stays in peak condition.
Service technicians will inspect your vehicle for any wear or tear you won't notice, as well as renew car parts such as spark plugs or engine oil. Regular servicing also increases your car's reliability by ensuring that components haven't completely worn out, thus avoiding unexpected car bills. In addition, having your vehicle regularly serviced can also increase your car's value, as it's a sign for potential buyers that the car has been properly maintained and looked after throughout its lifespan.
Although there may be some crossovers between MOTs and Car Services, always bear in mind that an MOT is based on visually checking minimum requirements, whereas servicing brings the inspection to a more in-depth level, also dealing with replacing components to manufacturers' standards. Hence we would recommend that you get your car serviced in addition to your regular MOT.
Here at Perrys, we offer service plans which also include the following:
MOTs for a discounted price of £25
Free tyre puncture check (throughout your plan)
10% discount on parts, accessories and fitting cost
Free safety checks (throughout your plan)
Free car wash (with every service undertaken)
Click here to find out more about our service plans.
However, should you be interested in booking a service on its own, click here.
We hope our article has helped you understand the key differences between MOT and car service. However, should you have any further questions, please don't hesitate to contact us
Tags: *MOT *Car_Service *Car_Servicing *Servicing *Car_Checks
Written by Lucrezia | 2.20 min read
14 Apr 2023