What is Personal Contract Purchase?
If you don't want to purchase your car by dipping into your savings, there are several other options, including Personal Contract Purchase, also known as PCP. This is one of the most popular car finance options available to motorists, effectively similar to a loan to purchase a car. However, differently from a personal loan, with Personal Contract Purchase (PCP), you won't need to pay the car's full value back unless you decide you want to keep it at the end of your agreement, as the last payment is an optional one.
How Does Personal Contract Purchase Work?
Once your credit score has been checked and you've qualified for PCP, you will then need to pay an initial deposit for your car of choice (it can be a new or a used one) – we also offer no deposit PCP at Perrys. However, this will mean that your monthly repayments will be more expensive than if you choose to pay an initial deposit. You will then need to pay monthly instalments for the remainder of your contract agreement (generally 3-5 years). Once this is up, you will have three options:
Pay the optional final payment, known as 'balloon payment' and keep the car. The car will effectively become yours once you've entirely paid off your car finance. However, it's important to remember that your balloon payment will generally be more expensive than your monthly instalments
Give the car back to the dealer if you don't want to keep it
'Trade in' your car and use its value, after the balloon payment has been deducted, towards a deposit for a different new/used car
Pros of Personal Contract Purchase
Fixed Monthly Repayments: Similarly to Hire Purchase (another car finance option explained on our blog), with PCP you will know what you're paying every month, so that you can budget you other expenses around your car finance.
Zero Deposit Option: In some cases, PCP agreements offer a zero-deposit option. This may sound appealing to those who don't want to dip into their savings and is based on a credit score check beforehand. However, monthly repayments, may be higher if you choose this option.
Different Options at the End of Your Agreement: As explained above, when your PCP agreement is about to come to an end, you have a whole set of options to choose from, including giving your car back, paying for it and owning it or 'trading' it in and place the resale amount, less the balloon payment, as a deposit for a new car.
You Can Upgrade Your Car Every Few Years: With PCP there is no issue in terms of commitment, as you're not tied to a long contract and could upgrade your car every 3-4 years if you wanted to.
Cons of Personal Contract Purchase
Fixed Mileage Allowance: You will need to carefully read your terms and conditions before entering a Personal Contract Purchase agreement, as they all come with some limitations when it comes to mileage. Before you enter the contract, you can estimate how many miles you will drive on a yearly basis and your repayments will be tailored to that mileage. However, if you go above your allowance, you will need to pay for the additional miles at an agreed-upon amount (ex.9p per extra mile).
Final Balloon Payment: Your final payment, also known as 'balloon payment' , will generally be much more expensive than your monthly repayments, should you wish to keep the car at the end of your agreement.
You Don't Own the Car Until the End:

Similarly to Hire Purchase, you won't effectively be owning of the car you're driving unless you make the optional final payment.

You Must Keep Your Car In Good Condition: Because the vehicle won't be yours until the last payment has been made, you will need to keep it in the best possible condition as in some contracts you may be charged for damages should they occur. Also, the better the condition of the car, the greater the resale value will be when it comes to handing your vehicle back.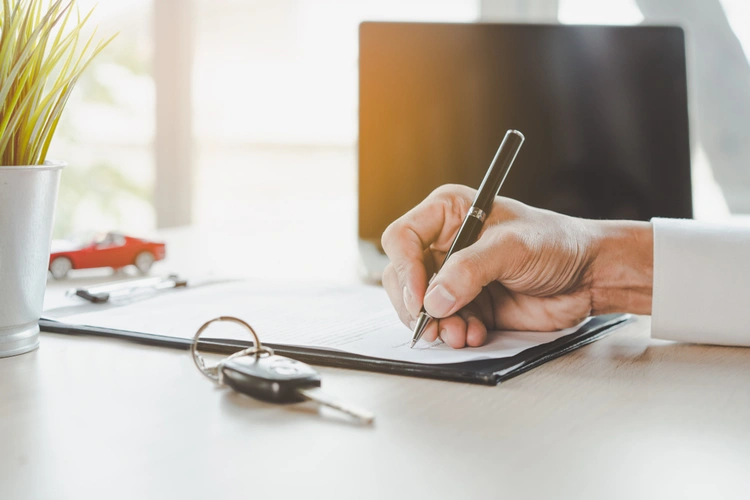 Example of Personal Contract Purchase Offer (at the time of writing)
Here is an example to help you better understand the dynamic of Personal Contract Purchase:
Let's say that you're interested in a 2018 Citroen C1 and would like to purchase it using PCP 48 months with a 12.9% A.P.R. and a 6.69% rate of interest. With a £1 initial deposit, you will be subject to 47 monthly payments of £243.63 and an optional final payment of £2755. This allows you to drive 10,000 miles annually and the excess mile is charged at 9p per mile. Differently, if you'd like to place an initial deposit of £4000, this will bring your monthly payments down to £157.25.
We hope that our article has brought some clarity in relation to this car finance option you could choose to fund your car purchase. However, should you have any further questions, please don't hesitate to contact your closest Perrys where we'll be happy to help you with any query.
Tags: *PCP *Personal_Contract_Purchase *Car_Finance *Car_Finance_Agreement
Written by Lucrezia | 3 min read
03 May 2022