What Are Apple Car Play and Android Auto?
Using a smartphone in your car has several benefits, from playing music on your journey to using navigation apps. It's essential to do it safely though, as using your phone whilst driving could lead to dangerous distractions.
That is where tools such as Apple CarPlay and Android Auto come in handy. We will look in this article at what these features are, how to use them, and make the most of them.
What is Apple CarPlay?
Apple CarPlay is a smartphone mirroring feature that allows you to connect your iPhone to your car, displaying a more simplified iOS-like interface and using your phone's features on the car's infotainment system; from messaging and calling to music services and navigation apps. With CarPlay you'll be able to use Siri, allowing you to use vocal commands without distracting you from driving. It's important to notice though, that CarPlay won't substitute the car manufacturer's infotainment system; you can in fact access the latter with a simple click.
How Do I Use Apple CarPlay?
You won't need a dedicated app to use CarPlay; however, this is as long as you have a compatible iPhone (from iPhone 5 or iOS 7.1 onwards).
All you will have to do is:
Enable Siri on your phone's settings.
Use a lightning cable to connect your phone to the car's USB port (unless your car supports wireless CarPlay).
If CarPlay doesn't automatically open after you're connected (either via cable or wirelessly), tap the CarPlay icon on your infotainment display, follow the instructions and you'll be all set.
With CarPlay you won't need to install any apps; instead, apps already on your iPhone, which are compatible with the feature, will appear on the screen for you to use.
What Apps are Compatible with Apple CarPlay?
Not every app on your smartphone will be compatible with this feature, but the good news is that the majority of the apps which you are most likely to use whilst driving, are compatible. This includes:
Phone App (so you can answer and make calls)
Google Maps, Waze, and Apple Maps (so you won't get lost on your journey)
Apple Music, Podcast, Spotify, Audible (so you won't miss out on any entertainment)
Messages and WhatsApp (you will only be able to dictate messages as opposed to typing them, for obvious security reasons; and what is more, Siri will read the messages you receive out loud for you)
What is Android Auto?
Android Auto is the Google Android equivalent of Apple CarPlay. This system, similar to CarPlay, will allow you to connect your phone to your car, avoiding distractions whilst driving and displaying a simplified version of your phone's screen onto your infotainment system.
It's important to notice that all cars featuring Apple CarPlay also come with Android Auto.
The biggest advantage of Android Auto is that your apps will regularly update, providing you with real-time updates when using apps.
Similarly to Apple CarPlay's Siri, Android Auto has a Google Assistant speech recognition software that allows you to action commands by keeping your eyes on the road to avoid distractions. You can easily activate voice control, from saying "Hey Google" to pressing the voice control button on your steering wheel.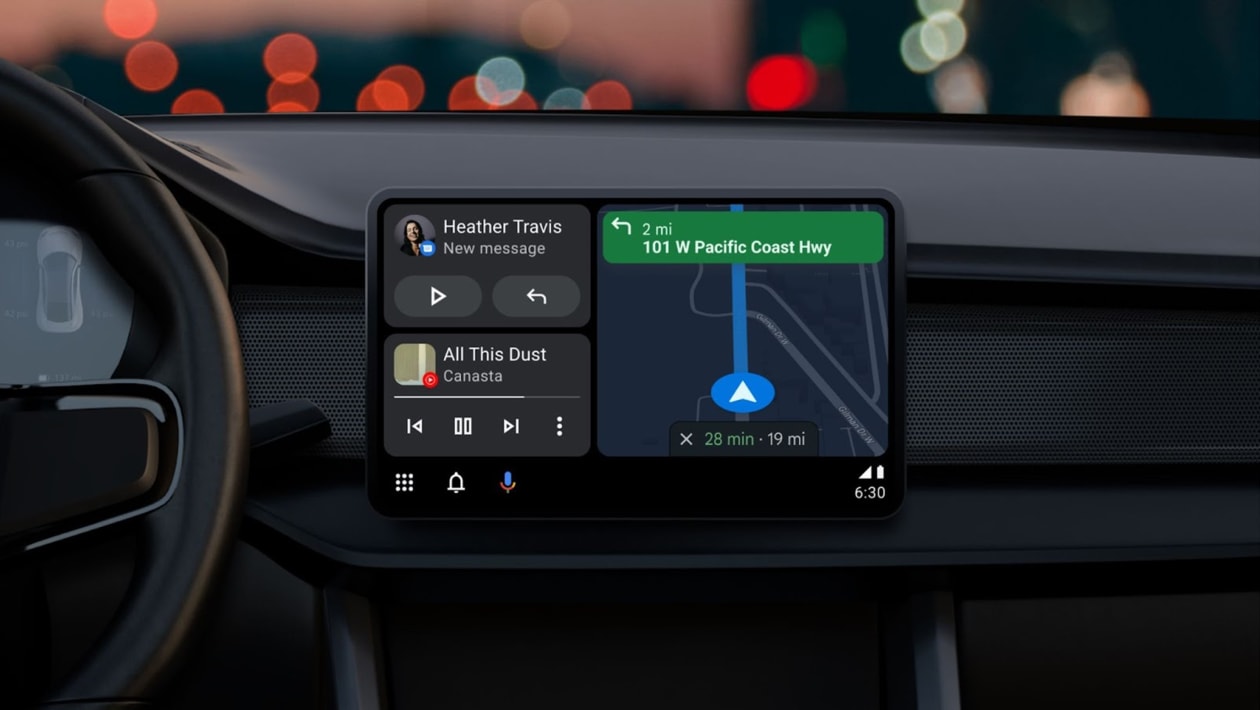 How Do I Use Android Auto?
First, you must ensure your phone is compatible with Android Auto. You can do so by checking your operating system and ensuring your smartphone runs on the latest version of Android.
Then plug your USB cable into your car's USB port or via Bluetooth (if your car offers this possibility).
From there, just follow the on-screen instructions and you're all set.
What Apps are Compatible with Android Auto?
You will be able to use a wide selection of apps during your journey, from Spotify, Audible, and Google Maps to WhatsApp, Waze, and many others. This adds to the possibility of dialing and receiving calls through your phone using Google Assistant and making Android Auto flexible and versatile.
We hope our article has given you a deeper insight into what Apple CarPlay and Android Auto are. However, should you have any further questions, please don't hesitate to contact us by clicking here.
Tags: *Car_Features *Car_Technology *Apple_CarPlay *Android_Auto *Car_Tech
Written by Lucrezia | 2.40 min read
06 Mar 2023