Walk Through Ford Kuga Interior
The Ford Kuga is not just a car; it's an experience that combines sophistication and innovation to elevate your driving journey.
As you step inside, you're greeted with an interior designed to provide the utmost comfort and convenience. From its 10-way lumbar support to the Quickclear windscreen system, every aspect of the Ford Kuga's interior has been meticulously crafted to cater to your needs.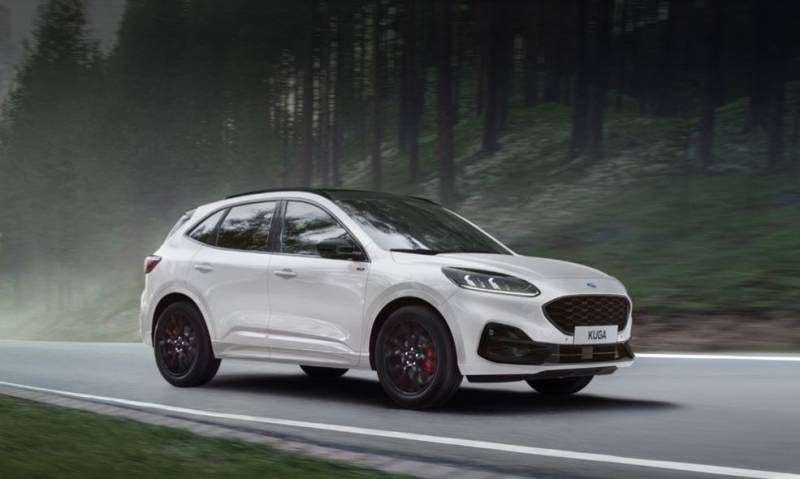 10-Way Lumbar Support and Heated Seats
Imagine embarking on a long road trip, feeling the soothing embrace of your car's seats as they adapt to your body's contours. This is precisely what the Ford Kuga's 10-way lumbar support offers—an unparalleled level of comfort that minimises fatigue during extended journeys. The lumbar support system allows you to customise the seat's contour to match your preferences, ensuring optimal spinal alignment and reducing strain on your lower back.
The comfort journey continues with the heated seats, particularly appreciated on cold mornings and chilly evenings. With just the push of a button, you can envelop yourself in warmth, making even the coldest days enjoyable. Whether you're commuting to work or embarking on an adventure, the Ford Kuga ensures that your comfort is never compromised.
Large Media Container in Centre Console and Wireless Charging
In today's digital age, staying connected is a priority, even while on the road. The Ford Kuga addresses this need by providing a spacious media container in the centre console. This container is intelligently designed to house your gadgets securely while you focus on driving. No more fumbling around for your devices; they're within easy reach, yet neatly organised.
The wireless charging option takes convenience to the next level. The days of tangled charging cables are behind you. Simply place your compatible device on the wireless charging pad and watch as it powers up effortlessly. Whether it's your smartphone, tablet, or other electronic devices, you can now ensure they remain charged throughout your journey, without the hassle of cords.
The Panoramic Roof
The Ford Kuga's designers understand that driving is not just about getting from point A to point B—it's about the experience in between. The panoramic roof embodies this philosophy by allowing you to bring the outdoors inside. The expansive glass roof extends across the length of the car, filling the interior with an abundance of natural light.
As you drive through scenic landscapes or bustling city streets, the panoramic roof provides an immersive experience, making you feel connected to your surroundings. Whether it's the gentle warmth of the sun on a summer day or the sight of stars twinkling in the night sky, the panoramic roof enhances every drive and adds an element of wonder to your journey.
Electric Parking Brake and Quickclear Windscreen System
Parking can be a challenge, especially in tight spaces. The Ford Kuga's electric parking brake streamlines this process, offering a seamless solution that takes the hassle out of parking. With just a push of a button, the parking brake engages or disengages, ensuring smooth and effortless parking experiences.
Additionally, the Quickclear windscreen system showcases the brand's commitment to convenience, safety, and visibility. Frosty windshields on cold mornings are no longer a problem. The Quickclear system rapidly heats the windshield, melting away frost and ensuring a clear view of the road ahead. It's a small feature that makes a big difference, ensuring that you can get on the road without delay.
Media Bin, Large Cup Holders, and Door Compartments
The Ford Kuga's interior is more than just a comfortable space; it's a practical one too. The vehicle offers a range of storage options designed to make your life easier. The media bin discreetly holds your essentials, keeping them within arm's reach while maintaining a clutter-free environment.
The large cup holders provide a secure spot for your beverages, preventing spills and allowing you to enjoy your drinks without worrying about messes. And the door compartments offer easy access to items you need on the go, from sunglasses to maps to small personal items.
The Ford Kuga interior is a testament to thoughtful design and innovation. From the luxurious 10-way lumbar support and heated seats that prioritise your comfort, to the convenience of wireless charging and clever storage solutions, every aspect of the interior is crafted to enhance your driving experience.
The panoramic roof adds a touch of wonder, allowing you to connect with the world around you even as you travel. With features like the Quickclear windscreen system and electric parking brake, Ford Kuga ensures that your journey is as smooth and effortless as possible.
Tags: *kuga*ford_kuga*ford*
Written by Natalie
24 Oct 2023