Top 5 Small Hybrid Cars
There are plenty of reasons why you may consider a small hybrid car; maybe you don't have off-street parking where you live, you may need to squeeze in narrow roads, you may not want to commit to the rising prices of fuel when filling your car up, you may want a more environmentally friendly alternative or simply because you may prefer a more compact design.
Whatever the reason, we have put together a top 5 of the best small hybrid cars we have in stock here at Perrys.
CUPRA Leon
First on our list is the CUPRA Leon, powered by a 1.4 e-Hybrid engine, the CUPRA Leon will offer you excellent performance without compromises, making it a perfect ride for all sorts of roads. It comes with driving aids like cruise control and lane assist, park assist (with front and rear parking sensors), a rear-view camera, a 10.25'' digital cockpit and a 10'' infotainment touchscreen that connects with both Apple CarPlay and Google Android Auto. The models we have in stock also feature 19'' aerodynamic alloys, leather upholstery, heated front seats and wireless charging for your electronic devices. The CUPRA Leon is roomy yet compact, with enough space for two adults at the back or three young children, a 280-litre boot and a 34-mile electric range, making it perfect for city life.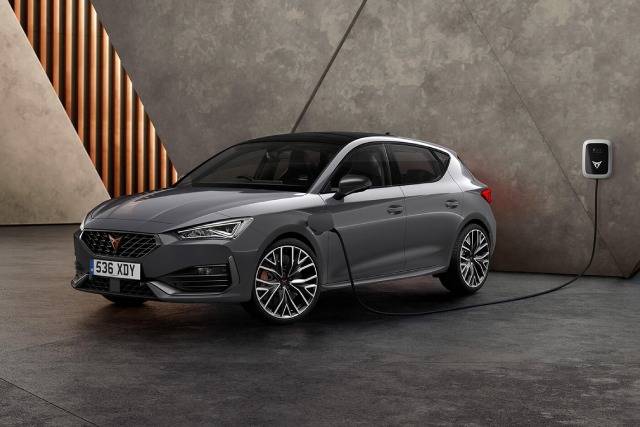 Ford Puma
The Ford Puma EcoBoost Hybrid is a small SUV that combines a sporty look with an agile, fun high-performance SUV drive. The Puma is powered by a mild hybrid 1.0 EcoBoost engine and features an 8'' touchscreen, cruise control, rear parking sensors, lane-keeping aid, speed sign recognition and QuickClear heated windscreen. What is more, it also comes with a premium B&O audio system and the Ford Sync 3 navigation pack, in addition to part-leather upholstery and trim. The Ford Puma is based on the contemporary Ford Fiesta platforms and running gear; however, it feels considerably bigger due to its sporty stance and spacious 456-litre boot. Being a mild hybrid with a 31-mile range on electric, the Puma uses the energy generally wasted while slowing down, putting it to use and powering the combustion engine. What is more is that, in addition to this, its 1.0 engine will allow it to ensure it's also inexpensive to run, a great pro considering the fuel prices these days. Lastly, there is plenty of room for three adults at the back, making it spacious, without compromising.
Kia Niro
Powered by a 1.6 litre petrol engine, the Kia Niro is a small and easy to drive SUV. Perfect for short journeys, the Niro lends itself as a great city car. It comes with an automatic gearbox, and an automated defog system, privacy glass for its rear side windows, speed limiter, lane keep assist, rear parking sensors + camera and a 7'' infotainment touchscreen with embedded sat nav. The Niro is easy to load thanks to its 324-litre boot and is spacious for both adults and kids, fitting comfortably for a party of three. Its large doors make it easy for even the tallest passengers to jump in, offering knee and headroom. Being one of the most economical SUVs currently for sale with a 36-mile electric range, the Kia Niro is appealing, even considering that it features a smooth and responsive six-speed automatic gearbox, taking the stress out of seemingly endless traffic jams and long journeys alike.
Hyundai IONIQ Plug-In
Powered by a 1.6 petrol engine and plugin hybrid motor, the Hyundai IONIQ 5 is a compact hatchback, easy to drive and inexpensive to run. With its quintessential futuristic body, the IONIQ 5 is currently one of the cheapest hybrids on the market to run. Perfect for city driving, the IONIQ 5 will virtually consume only a little fuel when cruising around town. On the contrary, it may run out of battery on a long motorway journey. It features a big boot with its 443 litres, spacious front seats, and reasonably spacious rear seats. The IONIQ 5 can easily carry three kids at the back or two adults. It also features a rear parking sensor, lane departure warning and lane keep assist, cruise control, Bluetooth connectivity, a 37-mile electric range and a 10.25'' with sat-nav, MapCare, live services and BlueLink.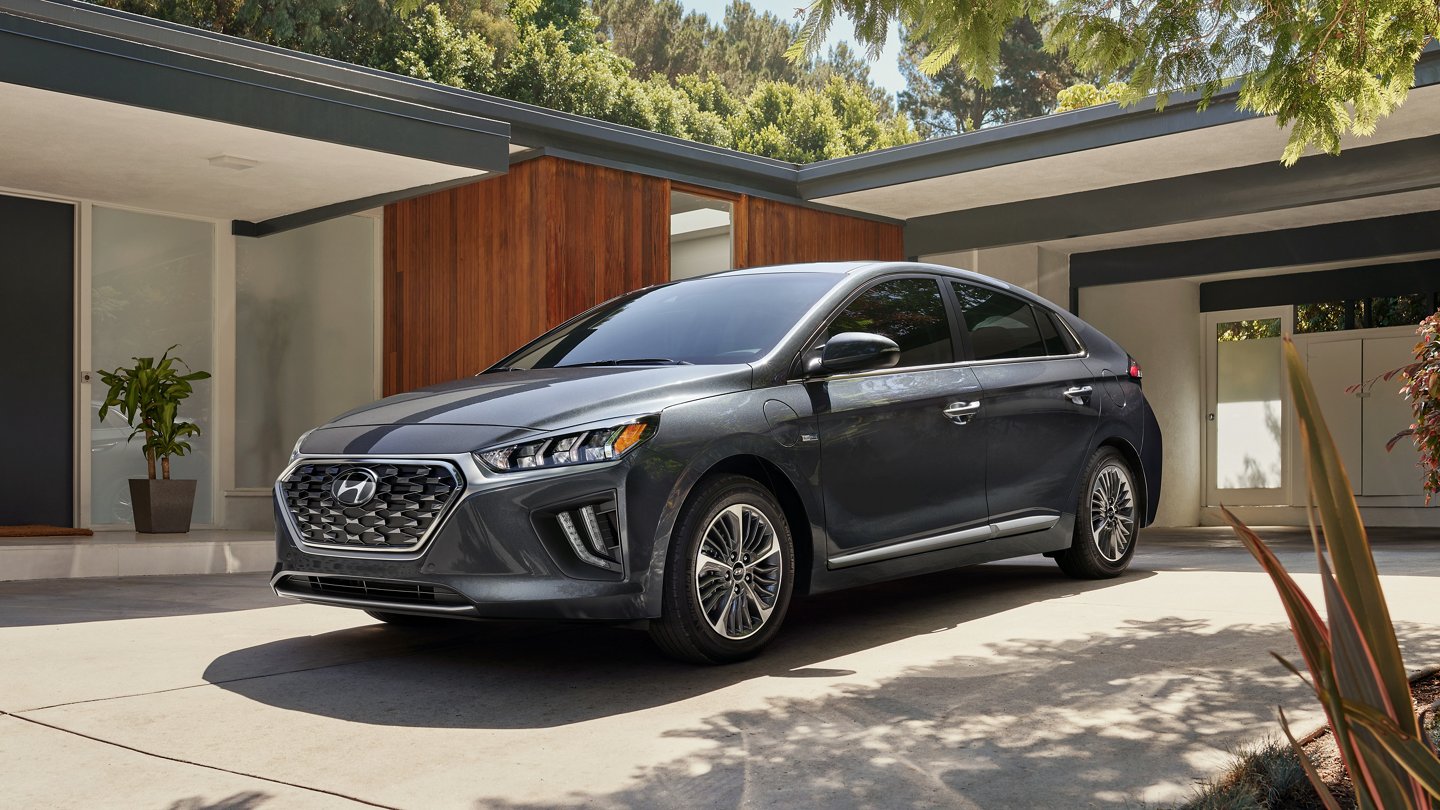 SEAT Leon
We end our top 5 with another Leon, but in this case, it's from SEAT. The SEAT Leon E-Hybrid features a 1.4 petrol engine and plugin electric hybrid motor combined with impressive interiors. It comes with a neat 10'' infotainment system, ambient lighting and full Bluetooth integration with Mirror Link, Apple CarPlay and Google Android Auto. It also includes a lane-keeping system, park assist with both front and rear sensors and cruise control with speed limiter, so that you can avoid those heavy fines and going over the speed limit, letting the car work for you. The SEAT Leon's boot may not be the most spacious with its 380 litres. However, it's a reasonably proportioned car for both adults and families, offering plenty of knee and legroom at both the front and the back. Lastly, the Leon has an electric range of up to 38 miles, making it a great city car for shorter journeys.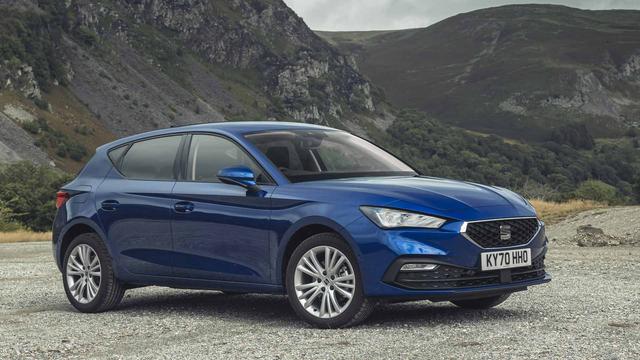 We hope that our top five have helped you make your mind up, but should you have any further questions, just contact your closest Perrys dealership and we're going to be more than happy to help.
Tags: *Small_Hybrid_Car *Hybrid_Cars *Small_Cars *Mild_Hybrid_Cars *Mild_Hybrid *Compact_Cars *City_Driving
Written by Lucrezia | 4 min read
31 Mar 2022