Top 5 Compact Electric Cars
If you are looking to move into the electric car market and want a small, easy manoeuvrable car, then here are the top 5 small electric cars available at Perrys.
Vauxhall Mokka-e
The Vauxhall Mokka-e has a 50kWh battery that can be recharged to 80% in around 30 minutes. It's a modern and reliable electric car that delivers a 201-mile range and 134bhp, faster than petrol and diesel versions. It's a car that can take you on any length of journey, whether that's nipping to the post office or taking a long road trip.
There are four models available in the range, starting with the SE Nav Premium, SRi Nav Premium, Elite Nav Premium and the Launch Edition sitting at the top of the range. Depending on the model, the car will come with a 7 or 10 inch touchscreen and a 10 or 12 inch digital dash.
Nowadays, the majority of electric cars come with significant driver assistance technology. All Mokka-e models have cruise control and lane departure warning with lane assist. The SRi models offer adaptive cruise control, and the Launch Edition has advanced park assist.
Follow the link here to see the offers available for the Vauxhall Mokka-e at Perrys.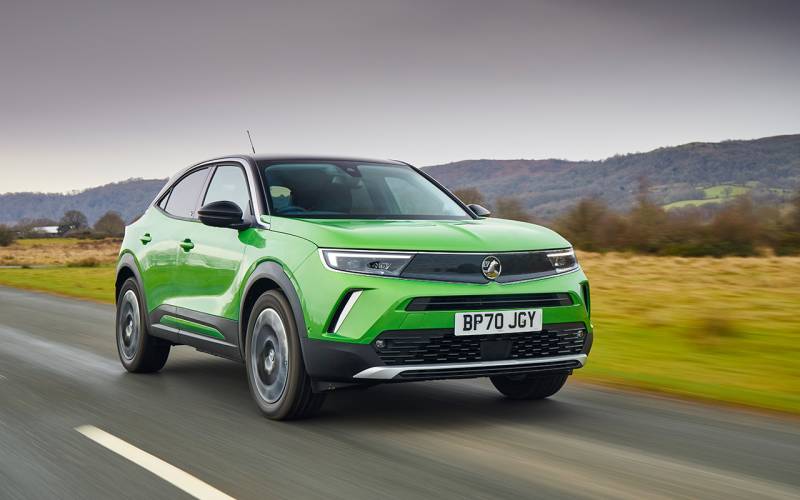 Hyundai Ioniq 5
The Hyundai Ioniq 5 is available with a 54kWh or 73kWh battery, providing a 240-300 miles range. It can charge to 80% in around 50 minutes when connected to a 50kW charging point. The 54kWh battery offers 168bhp, but if you want more power, the 74kWh battery can ramp it up to 215bhp or 301 bhp.
If you want a hatchback with added SUV features, this is an option for you. The boot holds 531 litres, allowing space for the many suitcases needed for vacations. The most powerful model has a dual electric motor powering the wheels, enabling four-wheel drive.
There are three trim levels available: the SE Connect, Premium, and Ultimate. The minimalistic interior throughout all the models prioritises style and comfort, providing a 12.3 inch touchscreen and a separate 12.3 inch digital dash. Driving assistance features include blind-spot collision, avoidance assist, highway drive assist, and more.
Follow the link here to see the offers available for the Hyundai Ioniq 5 at Perrys.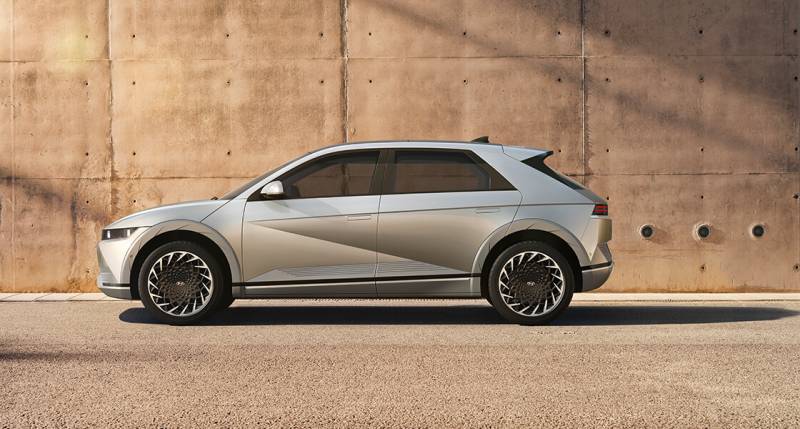 Peugeot e-208
A well designed, sleek hatchback perfect for anyone who wants a smaller electric car with five doors. 100% electric powertrain with a 50kWh battery which provides a range of 225 miles. It can charge 80% in 30 minutes when connected to a rapid charger.
All four Peugeot e-208 models ride on 17 inch alloys have diamond black rear bumper trims and gloss black wheel arch extensions, coming together to create the sleek, unique design of the Peugeot e-208.
The Allure Premium models are fitted with a 180 rear camera, front and rear parking sensors and ecoled headlights. The top-spec GT comes with the listed features, connect 3D navigation, lane positioning assist, and full LED headlights.
Follow the link here to see offers available for the Peugeot e-208 at Perrys.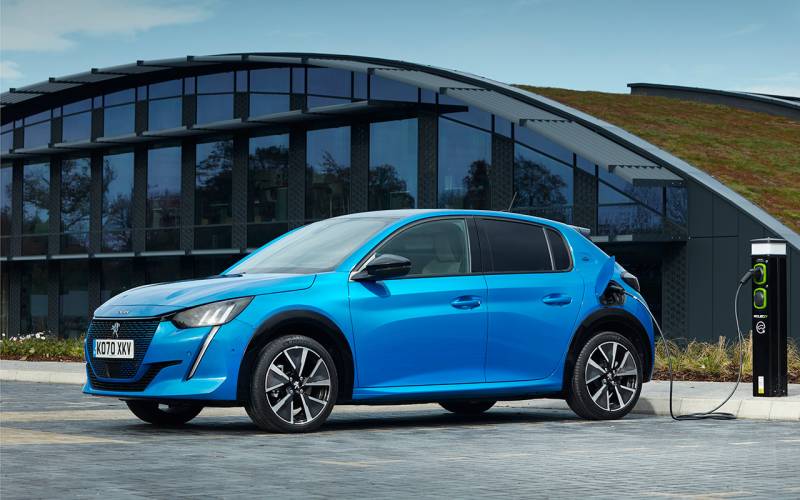 Vauxhall Corsa-e
100% electric version of one of the most popular hatchbacks with a compact mixture of sport and luxury. Powered by a 50kWh battery, it can reach up to 60mph in 7.6 seconds and charge up to 80% in 30 minutes using a rapid charger. The range of the Corsa-e is 209 miles making it perfect for a variety of journeys.
The wide array of body colours allows you to personalise the car, making it truly yours. It sits low to the ground on 16 inch alloys for the SE and SRi premium models and 17 inch alloys for the Elite premium model.
The immaculate interior includes electronic climate control and a 7 inch digital instrument cluster. The SE and SRi have an added flat bottomed steering wheel and ride on 16 inch alloys. Top of the range, Elite premium has all features plus a panoramic rear-view camera and an automatic emergency brake.
Driving assistance technology is featured in the Corsa-e with cruise control, lane assist, traffic sign recognition and an electronic parking brake.
Follow the link here to see the offers available for the Vauxhall Corsa-e at Perrys.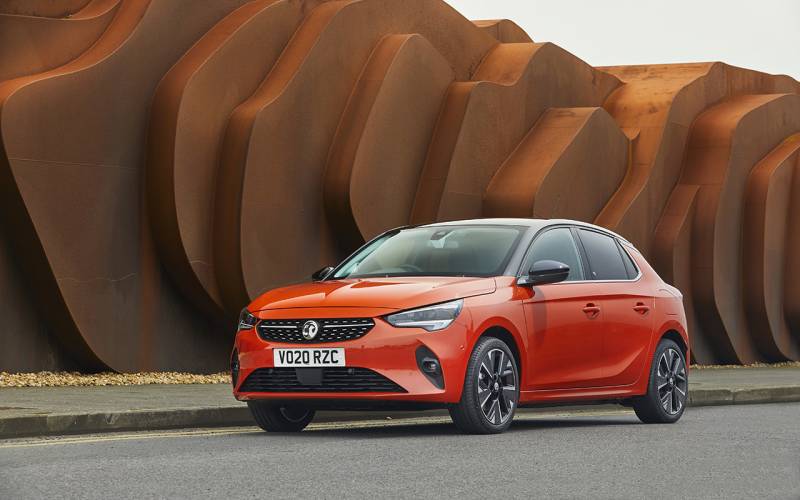 Mazda MX-30
Even though the battery size is smaller, at 35.5kWh than the other cars listed and a 124 mile range, the Mazda MX-30 is an excellent example of electrical technology. Home charging the MX-30 with a 22kW supply can charge it to 100% in 4.5 hours.
The standard kit includes radar cruise control, blind-spot monitoring, reverse camera, heads up display, 7 inch climate control display and to top it off, an 8.8 inch infotainment system. It gets even better! You will find features such as a 360-degree camera, Bose premium sound system, and a sliding sunroof further up the range.
The MX-30 has an element of the luxurious Rolls Royce, rear-hinged doors. The doors open against each other, making for easy access for the passengers. Another unusual feature is the ability to control charging and climate in the cabin using the MyMazda app.
Driving assistance technology over the four trim levels include radar cruise control, intelligent speed assist and blind-spot monitoring with rear cross traffic alert, and lane keep assist. GT models have added front cross traffic alert and a 360 degree view monitor.
Follow the link here to see the offers available for the Mazda MX-30 at Perrys.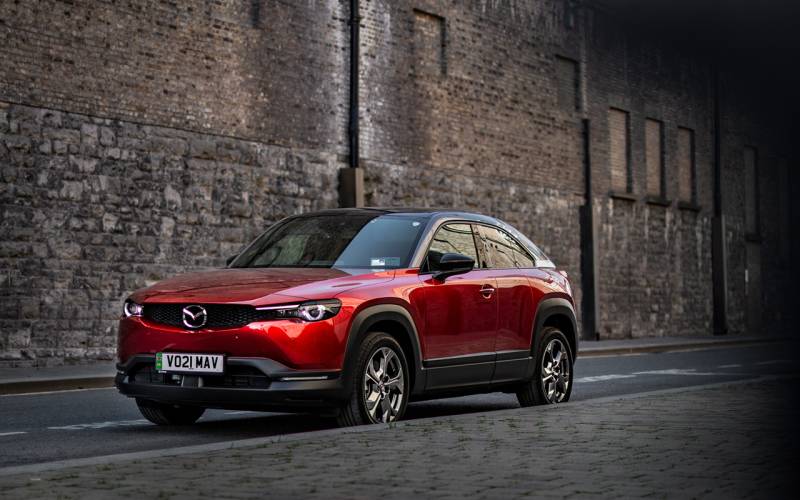 We hope our article has helped you get a better understanding of our top 5 small electric cars, however, should you have any further questions, please contact your nearest Perrys and we'll be happy to help.
Tags: *Electric_Vehicles *Compact_Vehicles *Top_5 *Small_Cars *Small_Electric_Cars *Mazda *Vauxhall *Peugeot *Hyundai
Written by Lois | 6 min read
09 Mar 2022