Top 5 Best Family Electric Cars
Thanks to the boom in requests for electric cars, they are now available in all shapes and sizes to meet the requirements of an ever-increasing number of customers.
Producing zero emissions, low noise, and qualifying for a road tax exemption, electric cars also prove to be a good investment for families, accommodating medium to large families as well.
Here at Perrys we've had a thorough look at our stock to identify our top 5 best family cars based on variables such as usability, range, and driving dynamics.
Hyundai IONIQ 5
With comfortable interiors, lots of space and ultra-rapid charging, the Hyundai IONIQ 5 is at the top of our list. A 5-door electric and automatic, the IONIQ 5 is available here at Perrys on monthly instalments with our latest PCP offer.
It has a battery capacity to cover 240 miles on a full charge and can be topped up in just 18 minutes on a fast 220 kW charger for the 73kW All-Wheel Drive (AWD) and the Rear Wheel Drive (RWD) model. Inspired by 1980s cars designs combined with today's sharp edge technologies, the IONIQ 5 offers a 527-litre boot capacity, making it ideal for family holidays.
The interiors are very spacious for the whole family, offering lots of legroom at the front and at the back.
In addition, expect to find parking sensors, sat-nav, reversing camera, cruise control and blind-spot detection.
Lastly, to top it all up, the IONIQ 5 comes with 12.3-inch screens, one behind the wheel and another one for infotainment, to keep entertained even the fussiest kids thanks to Bluetooth connectivity, DAB radio, Android Audio and Apple CarPlay.
Kia E-Niro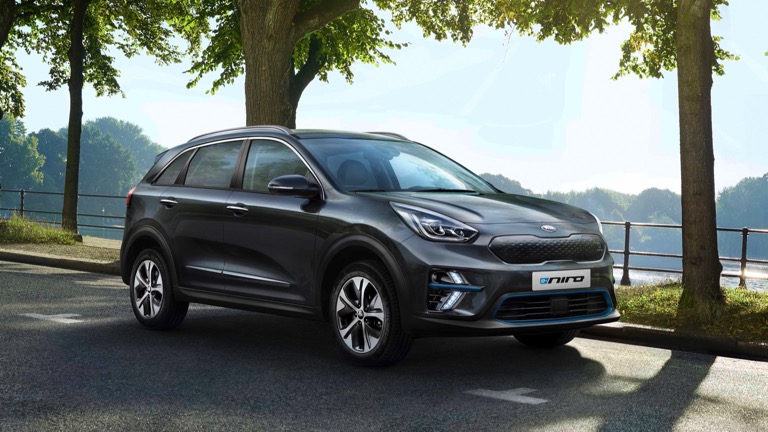 Only second to the Hyundai IONIQ 5 in terms of boot size with its 451 litres, the Kia e-Niro is a pure electric SUV, a 5-seater for long drives and large families. Its leather interiors and soft-touch plastics offers comfort and space, making it an excellent investment for families.
The e-Niro has a battery range of 282 miles on a full charge and can be topped up from empty to 80% in 30 minutes using a 50kW charger available in most public locations. It's true, charging it at home using a standard 7kW charger will take around 6h; however, a full "tank" on the e-Niro will cost you around £9, saving you roughly a whopping £20 compared to fuelling a petrol car to cover the same distance.
Both front and rear seats offer plenty of leg room with rear seats accommodating even the older kids as there is plenty of space for two six-footers in the back.
In addition, the driver's seat comes with an 8-way power adjustment and lumbar support, making the e-Niro ideal for long journeys such as family holidays.
Peugeot e-208
With low running costs, ample rear space and rapid charge that can be controlled using an app, the Peugeot e-208 50kW is our second candidate here at Perrys.
Its battery range covers around 220 miles on a full charge and only requires 20 min to be topped up from empty to full using a 150 kW charge point. Using a standard home charger, it will take around 7h to top up your Peugeot e-208 from empty to 80%, however, it should cost about £8-£9 (depending on your energy tariff), saving you roughly £15 from its petrol counterpart.
The e-208 boot is 311 litres, making the car compact, but equally spacious and appealing to a young family with smaller kids.
Lastly, the e-208 comes with a 7-inch touchscreen infotainment system that includes DAB radio, Bluetooth, Apple CarPlay and Android Auto, a perfect solution for the whole family.
Vauxhall Mokka E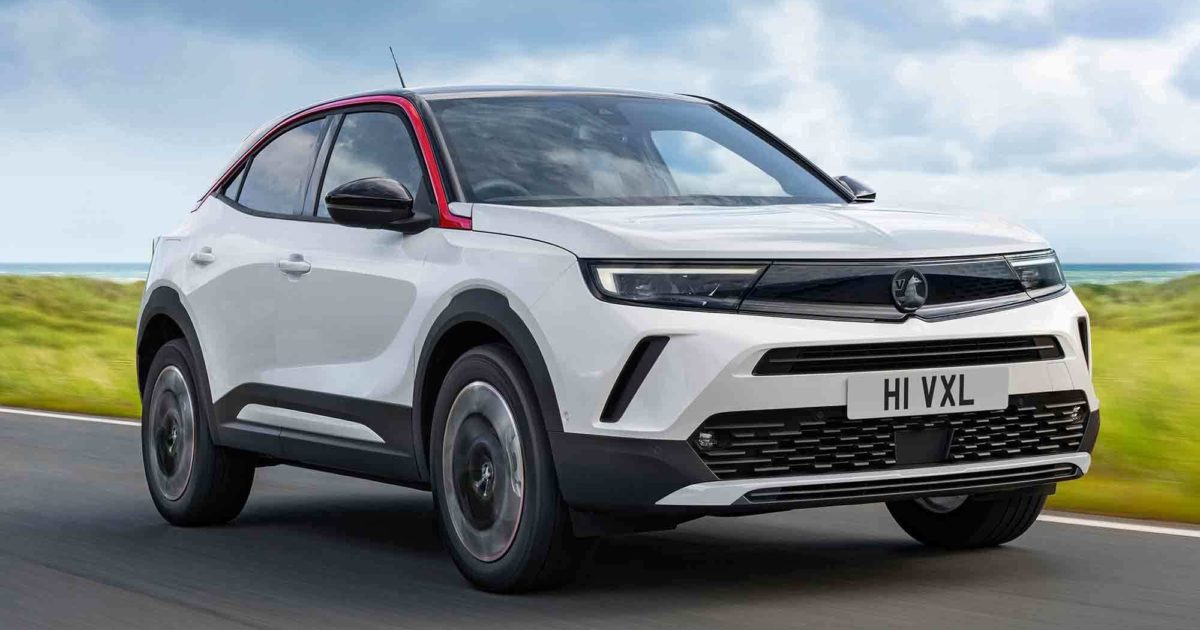 Eye-catching styling and a modern features make the Vauxhall Mokka-e look fresh without overdoing it. The Mokka-e comes with a 50kW battery, allowing it to be topped up in only half an hour using a 50kW charger available in most EV public charging locations.
Using a 22kW home charger you're also going to be able to charge the car in just 5h, making it useful if you're planning a spontaneous family getaway. The Mokka-e can cover a range of 210 miles on a full charge, slightly less than a Peugeot e-208, however, it compensates for its lower range with a bigger boot of 350 litres, ideal for plenty of luggage.
Due to its range, the Mokka e- is perfect for town driving and motorway journeys alike, making it perfect if you're the one in charge of the school drop off or pick up.
So if you're looking for comfort, affordability and a compact car, the new Mokka-e may be perfect for you.
Hyundai Kona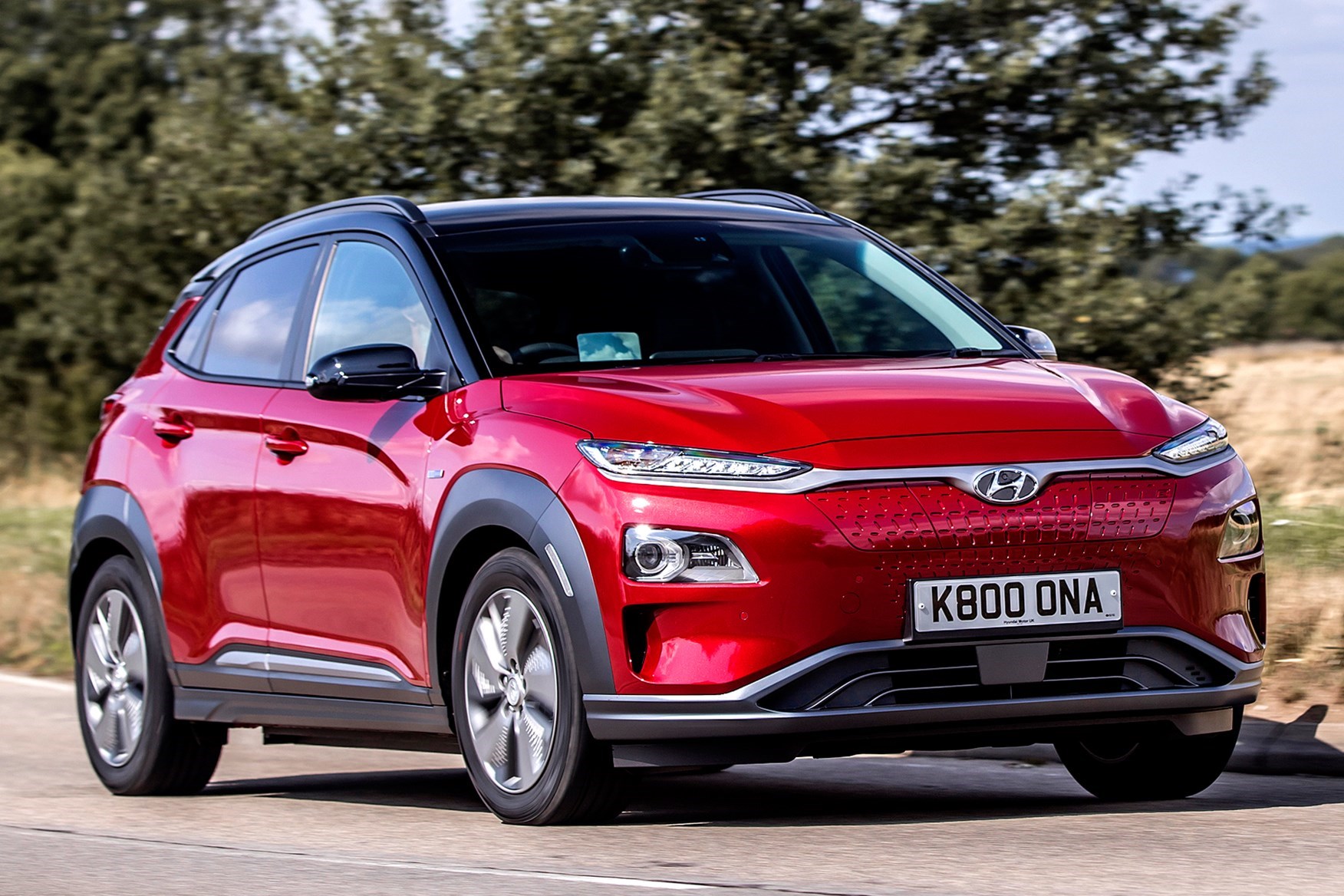 With its ample cargo space combined with stylish looks, the Hyundai Kona is a versatile and compact SUV, perfect for couples and families alike. Its battery offers a range of 279 miles on a full charge and our 64kW model only requires 47 minutes to top up from empty to 80% using a fast 100kW charger.
It also comes with an easy-to-use infotainment screen compatible with both Android Auto and Apple CarPlay, as well as a sat nav and music apps playable through smartphone mirroring from your phone, directly onto the Kona's screen.
In terms of storage space, the Kona features a 332-litre boot and has plenty of leg room at the front thanks to its adjustable seats, as well as being spacious at the back, making it suitable for younger and older kids alike.
Lastly, it also comes as a standard with collision avoidance assists, blind-spot collision warning systems and driver attention warnings, making it suitable for all kinds of driving, both city and motorway.
We hope that our list helps you make your mind up, however, should you have any further questions, please feel free to contact your local Perrys dealership and we'll be more than happy to help!
Tags: *Family_Cars *Hyundai_Kona *Vauxhall_Mokka *Peugeot_e-208 *Kia_Niro *Hyundai_ioniq *Spacious_Cars
Written by Lucrezia | 4min read
09 Mar 2022