Electric Charging Points across the UK
As electric vehicles (EV) are becoming increasingly popular, the availability of charging points is crucial. Knowing where your nearest charging point is will ensure that you never run out of battery.
Across the UK, in over 15,500 locations, there are more than 42,000 charging points. It comes as no surprise that Greater London has the largest percentage of Electric Vehicle Charging points with 32.3%.
Charging points are mainly located in supermarkets, shopping centres, public car parks and service stations. Around 1300 supermarkets have at least one charging point available and the vast majority of service stations have electric chargers installed. Motorway service stations usually have rapid chargers which will charge your EV up to 80% in 30-40 minutes. If you're a long-distance commuter or want to go on a road trip then this will benefit you. Make sure you plan before you set off, so that you're aware of the charging points on your route.
It's good to know the types of charging points and the connector types that are compatible with your car. There are 3 types of charging points: Slow, Fast and Rapid. Below is a chart showing the types of chargers, power ratings, approximate range of miles, and the features of the connectors.
Slow and Fast Charging
Rapid Charging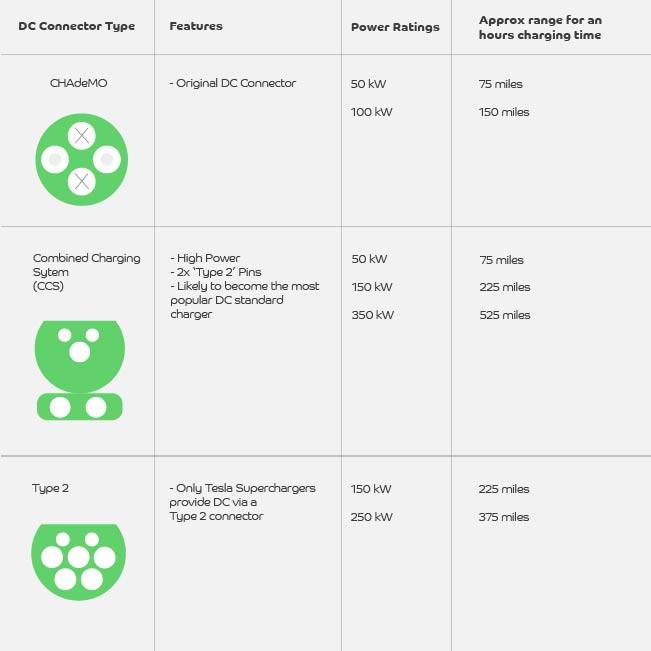 So how much will charging your electric vehicle cost you? Batteries can vary in size, so the charging price will fluctuate. Not only does the size of the battery impact the cost, but the type of charging point and location will have an effect as well.
Based on the average battery size of an electric vehicle, 60kW, and the car having approximately 200-mile range here are the charging costs at different locations:
Charging from Home: Costs about £9.20 for a full charge. The average electricity rate for charging your car at home is around 17p per kWh.
Charging at Work: Employers may have charging points installed at your workplace, typically they will offer free use throughout the day.
Charging in Public Locations: Supermarkets and shopping centres will have public charge points that you can use for the duration of your stay.
Rapid Charging: These charging points are usually found at service stations on the motorway. These usually cost £6.50 for a 30–40-minute charge which should give you approximately a 90-mile range.
We hope our article has helped you get a better understanding around charging points across the UK, however, should you require any more info, please contact your nearest Perrys and we'll be happy to help.
Tags: *Electric *Electric_Cars *Electric_Charging *Rapid_Charging *UK *UK_Charging_points
Written by Lois | 4 min read
28 Jan 2022