Electric Car Maintenance and Servicing Explained
Research has shown that a great advantage of electric cars compared to Internal Combustion Engine (ICE) ones is that they have fewer parts to wear and that service and maintenance can cost up to 30% less than traditional petrol or diesel cars.
With fewer parts to wear (most units are made of less than 20 components), less can go wrong. However, there are still some maintenance tips that you should consider when owning an electric vehicle.
Top Maintenance Tips for Electric Cars Owners
EV battery packs are sturdy and made to last a long time; depending on the car make and model, some can last for over 100,000 miles, which the average driver completes in 10-12 years. Battery packs, however, need to be taken care of; that is why it's recommended to charge the battery of your electric car up to 80% instead of 100%, as this is better for the lifetime battery cycle count.
You also shouldn't park your electric car for too long under the sun and prefer parking in the shade, this will extend the battery life and keep the temperature comfortable. Parking in the sun may also cause your battery to overheat, potentially running into costly damage.
It's not recommended to drive over rough terrain, as this can cause vibrations that could potentially deactivate the battery's electrical system, which could both be dangerous if you're in the middle of a journey and costly when it comes to repairing it.
Another thing we suggest you do is to inspect your tyres weekly for both tread wear and damage to the sidewalls. Spotting a nail on the tread can save you from a puncture later on, allowing you to have your tyre repaired instead of substituted and not needing to rely on your breakdown cover on the road.
How Often Do Electric Cars Need to be Serviced?
Due to their lower number of moving parts, electric cars usually have slightly longer service intervals than their ICE equivalents. There is no one size fits all regarding how often you should service your electric vehicle. However, as a rule of thumb, you should always check your owner manual for your manufacturer's service schedule.
For example, our Vauxhall Corsa-E (insert link) requires a service every two years or 16,000 miles, compared to its petrol equivalent, which requires a check every 12 months or 12,500 miles.
What Maintenance is Necessary for an Electric Car?
Unlike petrol or diesel cars, electric cars have no oil to charge, filters to renew, water pumps and cambelt to change. However, they still require servicing and a check with a diagnostic machine to identify any faults that may need attention.
Despite its low maintenance, EV batteries will require checking each bank of cells for damage or degradation. This will allow, should any damaged cells show up on the diagnostics, to replace them individually instead of the whole battery pack.
Electric vehicles use regenerative braking, meaning that the resistance in the electric motor will help slow down the car. This means that not only will electric cars' braking system be more efficient, but also that electric cars will go through brake pads and discs at a slower rate. But, as it happens with all hydraulic systems, brake fluid will need to be checked and changed every two years.
Like traditional ICE cars have a cooling system, so do electric cars. In EVs, it aims is to keep the battery at optimum temperature regardless of the outside temperature or how hard the motor is working. EVs coolant needs to be inspected, just like any other traditional car and fluid levels topped up when necessary.
Tyres will also be assessed for wear and potential damage, together with suspension and steering.
And finally, the heating and the ventilation systems will be checked in case it needs air filters being changed or air-conditioning refrigerant levels need recharging.
Electric Car Servicing vs Hybrid Servicing
Although electric and hybrid cars share an electric motor, hybrid vehicles also rely on an internal combustion engine (ICE). As a result, their service will be similar in checks and costs to that of traditional petrol or diesel cars. It's important to notice, however, that a hybrid car service will be more complex if compared to that of an electric car due to the necessity to check plugs, engine oil, coolant, belts and pulleys, in addition to the electrical system, which they have in common with EVs.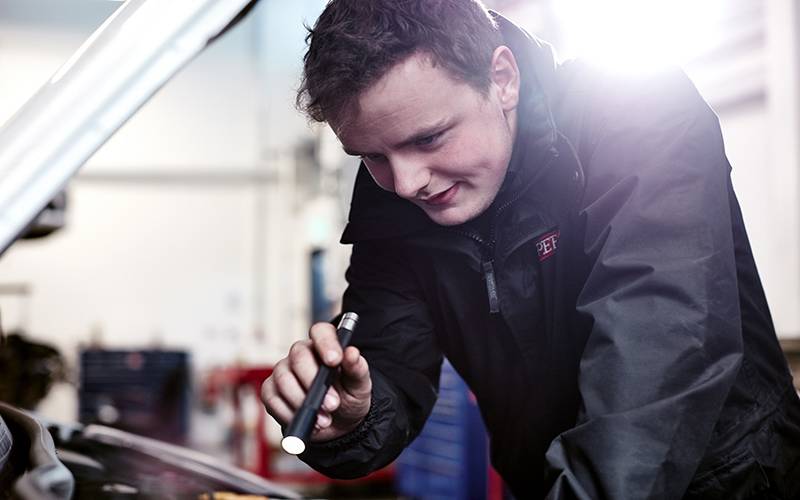 Perrys Service Plans and Car Servicing
Regardless of whether you're an electric car or hybrid car owner, Perrys have got ad-hoc services for all makes and models. We offer drop-ins and appointments 6 days a week and our technicians are manufacturer trained.
We know that sometimes we all need to budget and save to service our cars, that's why we have created the Perrys Service Plan, taking out the stress out of car servicing and allowing you to spread the cost of servicing by paying in monthly instalments, just like you would do with any utility. Joining our service plan will allow you to have a plan tailored to suit your needs and access to the following benefits:
10% discount on all parts, accessories and fitting costs and on labour charges of all mechanical repairs

No obligation, you plan can be cancelled any time should you change your mind or vehicle

MOT capped at £25 for the duration of the plan

Free tyre puncture repair for the duration of the plan

Free safety check at any time for the duration of the plan

Free wash with any service undertaken
If you're interested in joining our plan, click here and a Perrys associate will come back to you with a personal quote. If you're interested in finding our more about of service pricing instead, have a look here.
We hope that our article has helped you to better understand electric car maintenance and servicing, however, should you have any further question, please don't hesitate to contact us and our Perrys associate will be more than happy to help you and answer any questions you may have.
Tags: *Ev *Electric_Cars *Electric_Cars_Service *Electric_Cars_Maintenance *Hybrid_Cars *Plugin_Hybrid *Ev_Vehicle
Written by Lucrezia | 4 min read
11 Feb 2022