10 best beaches in driving distance (Kent)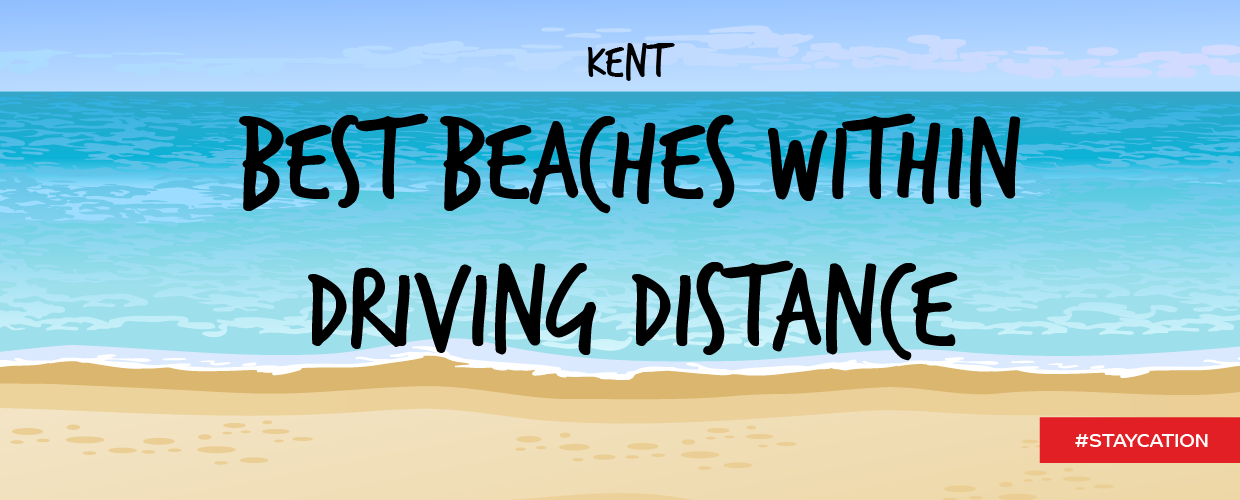 Kent has one of the best coastlines of the UK – with dramatic cliffs, golden sands and beautiful multi-coloured pebbles, there's something for everyone to enjoy, wherever you go. And as a few more lockdown restrictions have lifted, now's the perfect time to take advantage of the next sunny day that comes our way!
Culture Southwest believes that the last year's many changes will make people more impulsive when it comes to days out, rather than planning day trips and holidays ahead – with this in mind, we've made it even easier to be spontaneous with a list of the top 10 closest beaches to Kent! Next time there's a sunny day, simply choose one from below, get in the car, and go…
Tankerton Beach
Backed by a promenade with colourful beach huts and grassy slopes that are perfect for children to play on, Tankerton is an old-fashioned shingle beach with rock pools to explore when the tide's out. Dog restrictions apply, and there is plenty of paid parking nearby.
Get directions here.
Deal Beach
An interesting spot for a stroll and not far from Deal Castle, this beach is made up of pebbles and is punctuated by a pier dating back to the 1950s. There are plenty of amenities nearby, including a lovely café and fishing decks. Dogs on leads are permitted on certain parts of the beach, and there is paid parking nearby.
Deal Beach
Get directions here.
Joss Bay
Joss Bay is a popular sandy beach sheltered by steep chalk cliffs and backing on to the North Foreland golf course. Stretching for around 200 metres, this is a great family beach with all the facilities close at hand. Dog restrictions apply, and there is paid parking nearby.
Get directions here.
Margate Main Sands
This timeless beach with tidal pool, children's rides and amusement arcades offers families traditional seaside fun and entertainment – even if the tide is in there's still plenty of beach to make sandcastles. Dreamland Amusement Park is also nearby. Dog restrictions apply, and there is easy parking (paid) available.
Get directions here.
Stone Bay
A promenade lined with beach huts, this sandy beach is Blue-Flag-marked and offers great facilities. High chalk cliffs offer shelter from the breeze and a feeling of seclusion – perfect for a quiet day by the beach! Please note that high tide makes the beach disappear, so make note of tide times before you go. Dog restrictions apply, and there are two large car parks as well as on-street parking (paid).
Stone Bay
Get directions here.
Sunny Sands
One of the closest sandy beaches to London, this beach can get quite busy, but is worth it for soft sand and beautiful sea views. Next to Folkestone Harbour, there are plenty of fantastic facilities on offer, and even an annual sandcastle competition! Dog restrictions apply, and there is plenty of paid parking nearby.
Get directions here.
Botany Bay
A very attractive beach with chalk cliffs, golden sands and rock pools, it's named after Botany Bay in Australia, as local smugglers were caught on the beach and deported there. Offering clean sands and a Blue Flag award for water quality, it's a perfect family-friendly beach. Dogs are restricted, and there is both free and paid parking nearby.
Get directions here.
Kingsgate Bay
Kingsgate Bay is a sheltered sandy cove backed by high white chalk cliffs. The beach is probably best known for its sea caves, which are reputedly some of the best in the country. One end of the beach is overlooked by Kingsgate Castle, and at the other end is family-friendly Captain Digby public house. Dogs are welcome, and there is parking nearby (paid).
Kingsgate Bay
Get directions here.
Hythe Beach
Backed by a promenade with plenty of food stands selling traditional seaside treats, you can see all the way to France on a clear day from this pebble beach. A popular spot for fishing and walking, dogs are restricted during peak seasons, and there is usually plenty of parking to be found along the promenade.
Get directions here.
Palm Bay Beach
Palm Bay is a pleasant sandy beach not too far away from Margate's town centre, between Walpole and Botany Bay. Despite its appeal, Palm Bay never seems to get as busy as the better-known neighbouring beaches. It's probably one of the best dog-friendly beaches in the area. There is paid parking nearby.
Get directions here.
Seen a beach you'd love to visit? It's time to pack up the car and take a classic family road trip! Just make sure you remember the essentials, such as music (Queen and Ed Sheeran are family favourites), snacks and drinks, and, of course, your buckets and spades!
The most important thing to remember is to make sure your car is up to a long journey – especially if it's not been in use for a while. Perrys can help with a health check and service for complete peace of mind before you set off. Looking for the perfect car for the trip? We think a spacious family SUV is just right for the job, offering all the comfort, space and power you need for everyone to enjoy the journey.
Our Perrys Recommendations:
Written by Perrys | 7 min read
21 Apr 2021
You may also like...
Applying for car finance can sometimes seem like an overwhelmingly long process.…
Written by Lois | 3.5 min read
24 Jun 2022
Read more >
With the soaring prices of fuel which seem to gradually reach for the stars and…
Written by Lucrezia | 4 min read
24 Jun 2022
Read more >
If you're ready to purchase your new car, the good news is that you…
Written by Lois | 1 min read
13 Jun 2022
Read more >