Mazda MX-5
Mazda MX-5 has evolved with our award-winning KODO: Soul of Motion design language to appeal to all your senses. Its muscular stance and piercing LED headlights provide presence on the road. Elegant proportions and smooth contours flow from the exterior into the car's interior, giving it a sense of continuity and oneness.
Stylish interior design features high quality craftsmanship, from the sporty seats to the intuitive controls in the driver's cockpit. Mazda MX-5 is designed for pure driving pleasure.
SE-L
Air Condi­tion­ing - Cli­mate con­trol
AM / FM / DAB ra­dio, single CD/MP3 au­dio sys­tem with 6 speakers (in­cludes two driver's head­rest speakers)
Cruise Con­trol - with Ad­just­able Speed Lim­iter
Door Mir­rors - Pi­ano Black elec­tric­ally ad­just­able, heated
Driver seat - manu­al 6-way ad­just­ment / Pas­sen­ger seat - manu­al 4-way ad­just­ment
En­gine Start / Stop but­ton
In­teg­rated Mazda Nav­ig­a­tion sys­tem with 7" Co­l­our touch-screen dis­play, Mul­ti­me­dia Com­mand­er fea­tur­ing wire­less Apple Car­Play® & wired Android Auto™ and 3-years free map up­d­ates
Se­cur­ity - Re­mote con­trol cen­t­ral lock­ing
Sport
AM / FM / DAB ra­dio, single CD/MP3 fea­tur­ing 9-Speaker Bose sur­round sound sys­tem (in­cludes two driver's and two pas­sen­ger's head­rest speakers)
Door Mir­rors - Body co­l­oured elec­tric­ally ad­just­able, heated
Driver At­ten­tion Alert (DAA)
Head­lights - Ad­apt­ive Front light­ing Sys­tem (AFS)
Head­lights - Dusk-sens­ing
In­teri­or mir­ror - auto-dim­ming rear-view mir­ror
Lane De­par­ture Warn­ing Sys­tem (LDWS)
Park­ing aid - Rear park­ing sensors (aud­ible warn­ing)
Pre-crash safety - Smart City Brake Sup­port - Front & Rear
Se­cur­ity - Smart key­less entry
Traffic Sign Re­cog­n­i­tion (TSR)
Wipers - Rain-sens­ing front wipers with ad­just­able sens­it­iv­ity and speed
Sport Tech
Blind Spot Mon­it­or­ing sys­tem with Rear Cross Traffic Alert (BSM w/RCTA)
Front strut brace (184ps Manu­al only)
Head­lights - Ad­apt­ive LED Head­lights (ALH)
Lim­ited Slip Dif­fer­en­tial (184ps Manu­al only)
Park­ing aid - Re­vers­ing cam­era
Sports sus­pen­sion fea­tur­ing Bil­stein dampers (184ps Manu­al only)
GT Sport Tech
Door Mir­rors - Pi­ano Black elec­tric­ally ad­just­able, heated
Pi­ano Black power re­tract­able hardtop (ex­cludes models fin­ished in Jet Black Mica)
Stain­less Steel scuff plates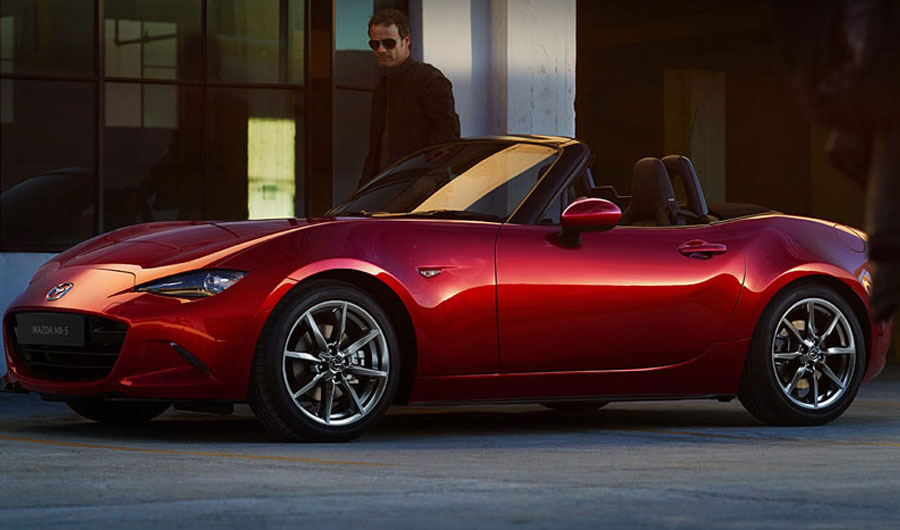 Exterior
Stylish rear design - Muscular raised shoulders and flared rear fenders give a sense of volume, while the smoothed-out corners and tucked-in sides create a tight and well-toned look.
Using clean and simple styling we've increased the length and depth of the boot's luggage compartment to create more practical storage space.
Classic open-top design - Mazda MX-5 has the classic profile of an open-top lightweight sports car, with set-back seating and a long bonnet that stretches out in front of you.
Its solid stance, sleek lines and flowing contours express dynamic motion and the promise of pure driving pleasure.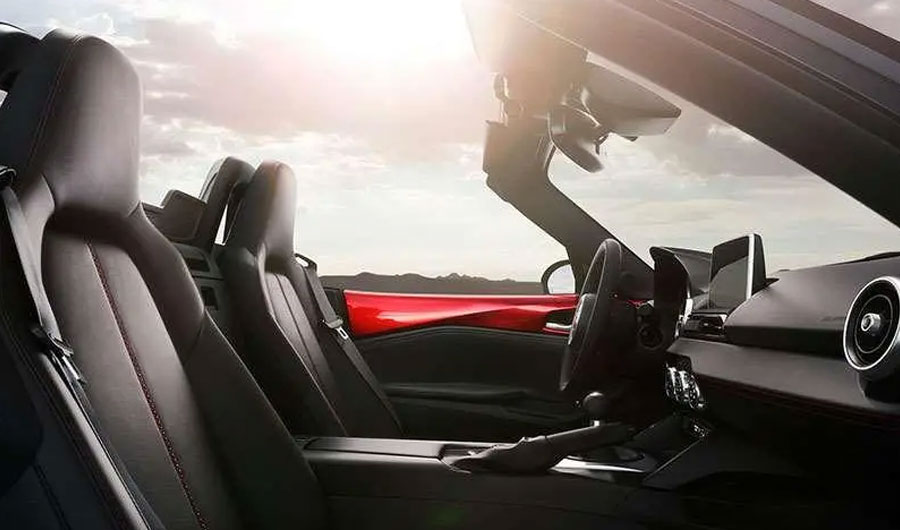 Interior
Steering wheel design - Wrap your hands around the premium leather steering wheel with red stitch detail and stylish satin chrome finish, whilst controlling your music via the handy steering wheel audio controls.
The ergonomic shape is designed to fit your hand, enabling quick and easy control when negotiating winding roads.
A jinba-ittai feeling of oneness - The interior design smoothes away the edges between exterior and interior, with the outside body colour flowing elegantly over the door, appearing to flow continuously into the cabin, creating a sense of oneness with Mazda MX-5*.
*Excludes SE models.
Pure driving pleasure
Also new for this exciting sports car is our award-winning SKYACTIV Technology, ensuring you can enjoy the exhilaration of those twists and turns without compromising your fuel economy.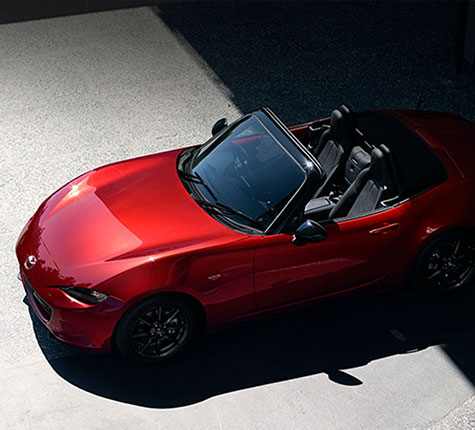 Best selling roadster
Going back to its roots, Mazda MX-5 embodies everything this iconic car is famous for and more. Experience outstanding agility and driving dynamics combined with thrilling rear wheel drive.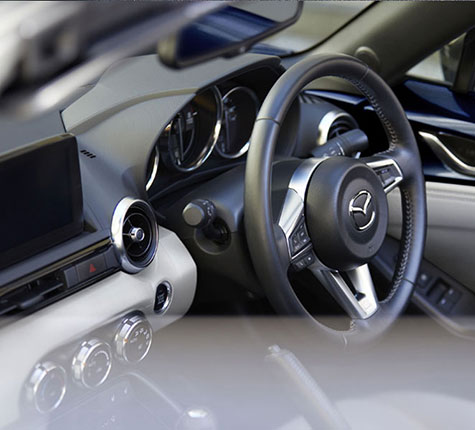 Blind spot monitoring system
When changing lanes, the Blind Spot Monitoring system scans your blind spots and then warns you if a vehicle is approaching in an adjacent lane up to 45 metres away. When reversing, Rear Cross Traffic Alert will warn of obstacles in your blind spots.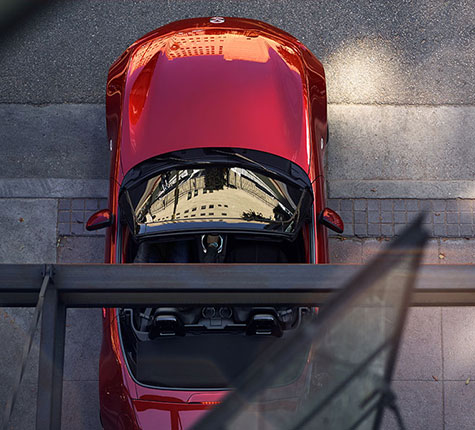 Skyactiv-body and skyactiv-chassis
We developed a new SKYACTIV-BODY and SKYACTIV-CHASSIS using lightweight materials, including aluminium and ultrahigh-tensile steel. This enabled us to reduce the weight of the body by 15%, while increasing its rigidity and strength.
Contact
Perrys
Contact us today for more details on the Mazda MX-5 range or to book a test drive.