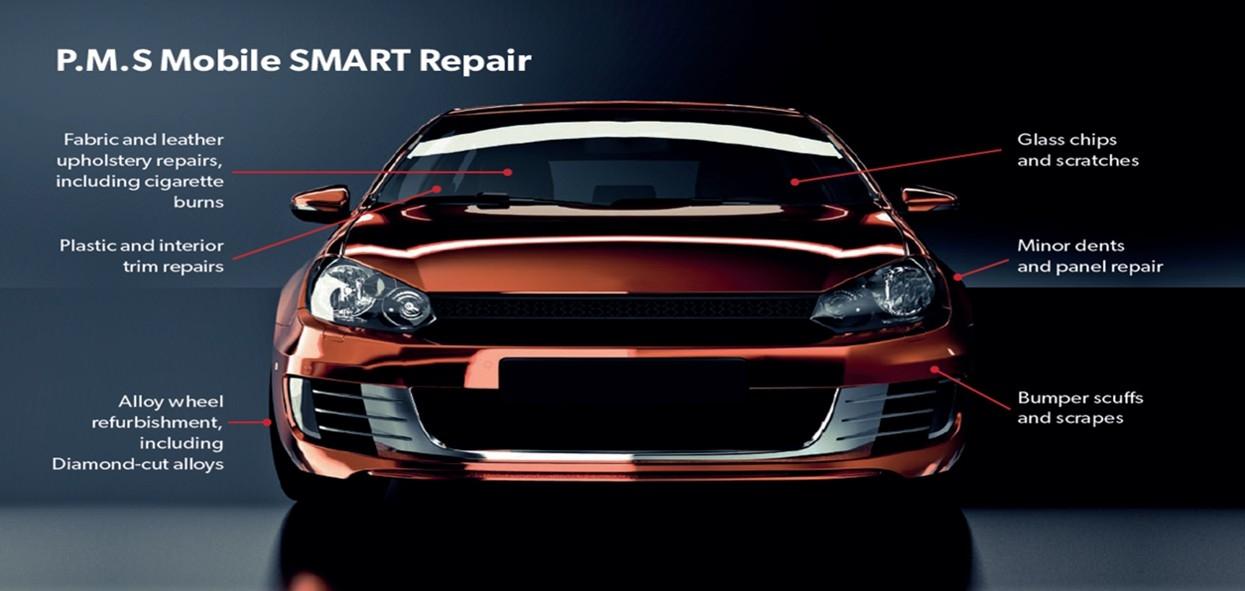 What can we repair?
Plastic and interior trim repairs
Glass chips and scratches
Paintwork scratches
Minor dents
Bumper scuffs
Alloy wheel damage
Fabric and leather upholstery repairs are also available in our Kent and Buckinghamshire regions only.
How much does it cost?
Our trained technicians will provide you with a personalised quote for your repairs.
Get in touch
Our team are happy to help call us today for a quote 03301 088182.
Car body repair
Minor dents, scratches and scuffs are now quick, easy and cheap to repair. Using our SMART (Small to Medium Area Repair Technology) we can restore your car's bodywork to make it look as good as new in just a few hours.
SMART usually is a mobile service so we come to you. In rare instances you may need to bring it to our body shops.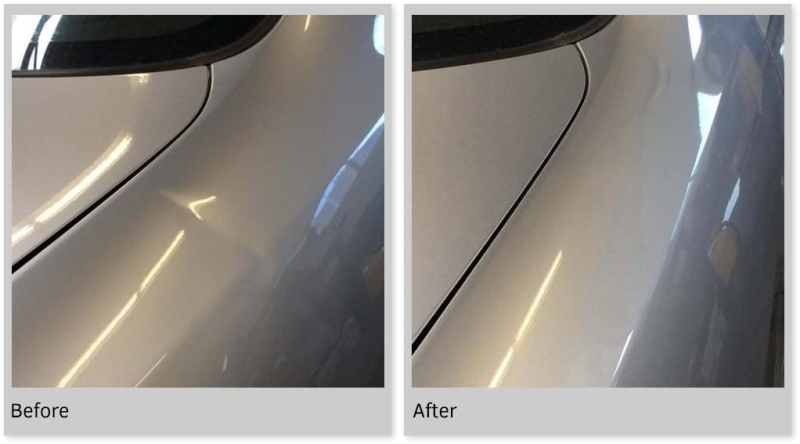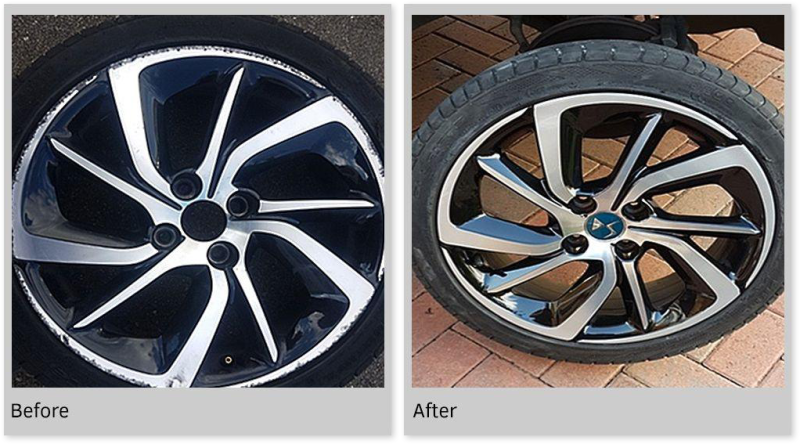 Alloy wheel refurbishment
Including diamond cut alloys We provide a cost effective solution to repair alloy wheel damage, be it scuffs, scrapes or kerb damage.
Our Mobile SMART Repair vans are capable of completing alloy wheel repairs on average within an hour and a half. This removes the need to send wheels to specialist centres which can take up to 10 days at a time.
Our SMART vans are fitted with an alloy wheel booth and preparation station.
Pricing (quotes are + VAT)
Damage Type
Definition
First panel
Adjacent panel
Light Scratches (such as a hedge scratch)
A scratch, that is visible but not deep enough to be able to feel, to the vehicle body panel not exceeding 30cm in length and not extended over more than 2 adjacent body panels.
£75.00
£55.00
Heavy Scratches (where you can nick your fingernail on the scratch)
A visible scratch to the vehicle body panel not exceeding 30cm in length and not extending over more than 2 adjacent body panels and excludes the bonnet, the roof and the boot.
£145.00
£65.00
Minor Dent
A dent to a metal body panel not exceeding 30cm in diameter where such panel has not been ripped, perforated or torn where the dent is not within 3cm of the edge of the panel.
£95.00
£65.00
Scuffed Bumpers
Damage up to 30cm in diameter, 3mm in depth and sits within 1 body panel.
£125.00
£65.00
Stone Chips
Includes chips to any area of the vehicle - Fill, paint and weatherproof (up to 10 chips).
£50.00
N/A
Painted Wheel
12 month guarantee on wheel repairs.
£55.00
Diamond Cut Wheel
6 month guarantee on wheel repairs.
£110.00
Our after care promise
In short...
We're a member of the NFDA (National Franchise Dealers Association)
What does that mean to you?
It's great news for you, because as part of our membership we have to agree to very tight standards when it comes to your experience with any of our dealerships. Whilst the standards are second nature to us, they are also added peace of mind for you when you're wondering what to expect from us when dealing with us for the first time.
Our promise to our customers
As a member of the National Franchised Dealers Association (NFDA) we commit to these Aftersales Standards to give you confidence when using our services. Our businesses employ expert technicians for the brands we represent. Our businesses use manufacturer-approved equipment, original parts or those which match or exceed manufacturer specifications and bespoke facilities operating to high standards of comfort, cleanliness and environmental compliance. We are committed to competitive pricing and always strive to ensure that we repair your vehicle to a high standard at the first time of asking. In short, our focus is on offering the right repair first time round by brand experts at a competitive price. We employ the best staff who are technically proficient, properly trained and passionate about customer service and passenger safety in whom you can trust. All NFDA members are committed to these Aftersales Standards as professional manufacturer-approved main dealers.
1. Staff training
All staff will be trained to a high standard and able to assist and communicate with customers in a knowledgeable and professional manner, adopting the principles of good practice and treating customers fairly at all times.
2. Communicating with customers
We will communicate in plain language and avoid jargon.
We will agree and use your preferred communication method via email, text or telephone.
We'll keep you updated with the progress of the repair or service while your vehicle is with us. If any additional work is required or there are any potential delays in completing the job, you'll be notified by the agreed communication channel.
We will do our utmost to minimise inconvenience for you.
You will be given the opportunity to give feedback which will be used by us to improve future standards.
We will dedicate individual time to you when you drop off and collect your vehicle to fully understand your needs and expectations and, after completion of the work, we will explain the work we have done.
An appropriate member of the team will be available to talk to you about the work on your vehicle.
3. Quotation and booking in process
Our staff will communicate clearly to customers, avoid technical jargon and give a full explanation of work to be carried out.
Quotations for work will include all labour charges, parts, sundries and VAT.
We will offer you a range of appointment times, including while you wait servicing where practicable.
We will ask you to authorise all work. For any additional work required, you will be contacted for further authorisation.
We will offer clear and firm quotations for work to be carried out, but in the unlikely event that a price cannot be guaranteed due to further work or diagnosis being needed, an estimate will be given. Limits of authorisation will be clearly established and agreed prior to any work being carried out. If further work is found to be required, you will be contacted for authorisation.
We will try to ensure that any inconvenience to you is minimised for example, by offering alternative transport where practicable, which may include courtesy vehicles, collection, delivery and 'while you wait' services.
We will inform you of the methods of payment accepted.
4. Workshop practices and process
We will supply parts that satisfy the vehicle manufacturer's specifications. If not readily available in stock, such parts will be ordered promptly to alleviate customer delays.
If we offer you an alternative to a vehicle manufacturer sourced or approved part, such alternative part (as identified on the invoice) will only be used with your agreement. In any event, you will have the reassurance of knowing that the part will always conform to the appropriate technical specification for your vehicle.
Qualified technicians will be available to offer advice and road test the vehicle with you (where appropriate) to aid your understanding and help an accurate diagnosis of a reported fault.
Any additional work identified whilst carrying out agreed repairs will be notified to you and you will be asked to authorise this additional work.
We will warrant all service and repair work for a minimum of 12 months following the repair.
Replaced parts (or photographic evidence of the same) will be made available to you for inspection when the vehicle is collected where you have requested this facility beforehand.
All servicing and repairs will be carried out in line with manufacturer technical specifications unless otherwise advised.
We will use oils and lubricants that are correct for the vehicle specification.
We will, whenever reasonably possible, advise you how long the work will take to carry out and will inform you if there is any delay.
We will, as part of any inspection of your vehicle, inform you of any safety-related warranty work and safety recalls that may be required and these will be carried out free of charge.
We will, as part of any inspection of your vehicle, inform you of any technical updates that may be required.
Protective coverings will be used to ensure that your vehicle is kept clean whilst it is in our care.
All franchised dealers will have a quality control process in place to check the quality of the work carried out on your vehicle.
Our workshops will have manufacturer-supplied equipment and specialist tools to allow us to complete work as recommended by the vehicle manufacturer.
5. Customer services
We will offer a range of courtesy services which may include 'while you wait' appointments, complimentary WIFI, courtesy vehicles, a delivery and collection service, customer drop-offs and onward transportation.
You can expect a clean and comfortable waiting environment in our dealerships with complimentary refreshments - courtesy vehicles used by customers will typically be current models.
Courtesy vehicles will be checked regularly to ensure good mechanical condition and will be cleaned regularly.
When required, customers using a courtesy vehicle will be asked to provide a copy of their driving licence and insurance details.
Any charges for courtesy vehicles or insurance requirements will be made clear to you at the time of booking.
Where reasonably practicable, we will offer a courtesy wash and vac as part of our service to you.
6. Collection and invoicing
You will be informed of all the work carried out on your vehicle including what replacement parts were used, any work carried out under warranty free of charge and any relevant manufacturer software updates.
All invoices will be fully itemised and explained to you. Service schedule reports and health check reports will also be provided where appropriate.
As part of our customer commitment to you, you will be informed of any operating or safety implications of not having work carried out that has been identified as necessary.
Only work authorised by you or subject to the agreed quotation will be charged for.
We will clearly display the forms of payment that are accepted by the dealership.
Full records of all service work carried out will be kept by the dealership supporting the validity of any vehicle manufacturer or other warranty you may have.
In order to help improve the desirability and re-sale value of the vehicle, the service book or digital record will be stamped or authenticated by us, as appropriate.
7. Customer complaints
We have an effective and robust complaints handling procedure and, with this in mind, we will:
Promptly record and acknowledge your complaint.
Ensure your complaint is handled professionally by dealer staff and management who have a clear understanding of our complaints procedure and are trained to assist you.
Agree with you a timescale to resolve the complaint.
Agree with you the method to resolve the complaint.
Record the outcome of your complaint and implement any agreed remedial action swiftly.
Where a complaint has been raised via an external body, such as Trading Standards, we will correspond with that body in a timely and professional manner.
If a complaint cannot be resolved at the dealership we will refer you to the RMI National Conciliation and Arbitration Service. This service can be contacted via ncs@rmif.co.uk
Guaranteed work and parts
We guarantee all our work and parts for 12 months, except in cases where the part's failure is caused by a fault that is caused by, or related to another, uncovered part.
As you might expect, one of the major benefits of choosing a long-established franchised dealer group for your servicing, is that our work is of the highest quality – and guaranteed.
We understand that getting your vehicle serviced can be daunting but be assured, if you're with Perrys you're in safe hands. We've been established since 1908 – which means a lot of people trust us. We now represent 16 of the UK's leading car and van brands across the country. We are one of the largest dealer groups in the UK and we're proud to be a member of the NFDA (National Franchised Dealers Association) who ensure that we stick to providing high levels of after care as part of our association.
For more information about Perrys, visit our home page.
*Terms & Conditions:
Vehicles must be 38 months or older. Prices may vary depending on make and model. Any prices advertised are for most 2.0 litre vehicles or smaller. There is an additional cost for 2.2 litre vehicles or greater.
About Perrys
We're the award-winning national dealership group, Perrys Motor Sales Limited. We represent some of the United Kingdom's most popular car and van brands across more than 50 dealerships nationwide.
Established in 1908 selling motor accessories in Finchley, we now employ more than 1900 people with an annual turnover in excess of £700 million.