With the selection of Mopar® Connect services, you have a dedicated assistance service ready to offer support in case of theft, accident or breakdown. In addition, with the new remote functions, you will know where your car is and will be able to conveniently check its status via your smartphone.
Mopar® Connect services are available as an accessory if you already own a compatible Abarth car. For more information about compatible vehicles, availability and services activation, please contact an authorised retailer of your choice.

Discover the full range of services now!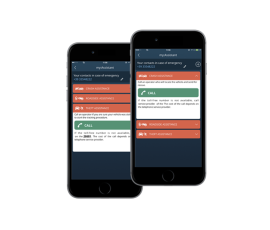 MY:ASSISTANT, SAFETY AT YOUR FINGERTIPS
Mopar® Connect Crash Assistance provides help 24 hours a day. With the Crash Assistance service, your vehicle will be able to identify the impact and send the GPS position to the operations centre. A my:Assistant operator will call you back and will be able to request help to the place of the accident.
If your car has a problem, with Mopar® Connect you have Roadside Assistance, dedicated to your needs and those of your vehicle.
The Roadside Assistance number, available on the Uconnect™ LIVE app, will put you in touch with a my:Assistant operator who will request roadside assistance to your location. Prompt intervention will have you back on your way in no time!
If your car is no longer where you left it, Mopar® Connect can help you find it.
With Theft Assistance, your vehicle will be able to detect unauthorised towing or tampering of the device and can receive assistance from a my:Assistant operator. After having reported the theft, the operators will provide the GPS coordinates and will immobilise the engine when the vehicle stops to facilitate recovery.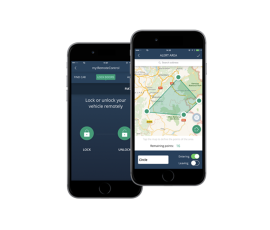 MY:REMOTECONTROL ALLOWS YOU TO CONTROL YOUR CAR FROM A DISTANCE
Finding your car in a packed car park has never been this easy. Locate it on the map in the Uconnect™ LIVE app and follow the quickest route to reach it.
Keep an eye on your car even when you're not at the wheel! Thanks to the Activate Notifications system, you can receive warning when your car leaves a designated area or if the person driving it is travelling at excessive speed.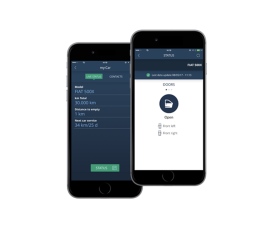 MY:CAR KEEPS YOUR VEHICLE IN PERFECT CONDITION
my:Car by Mopar® Connect is able to provide updated information about your vehicle. Via the Uconnect LIVE app, you can check the fuel level or tyre pressure in order to ensure every journey is a safe one.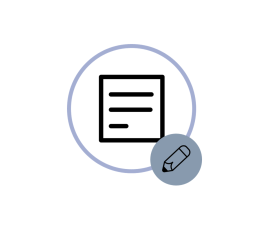 ACTIVATE MOPAR® CONNECT SERVICES IN JUST A FEW STEPS!
Request an authorised retailer to install Mopar® Connect device on the vehicle in order to use the services, and subscribe the contract providing your personal data and email adress.
You will receive an email with a link for services activation. Register or enter with your FCA account following the link included in the email and enter your vehicle's information to complete the activation.
You will receive a confirmation email when the Mopar® Connect services are active.
Download the Uconnect™ LIVE app or access your personal area on driveuconnect.eu and start using Mopar® Connect services!