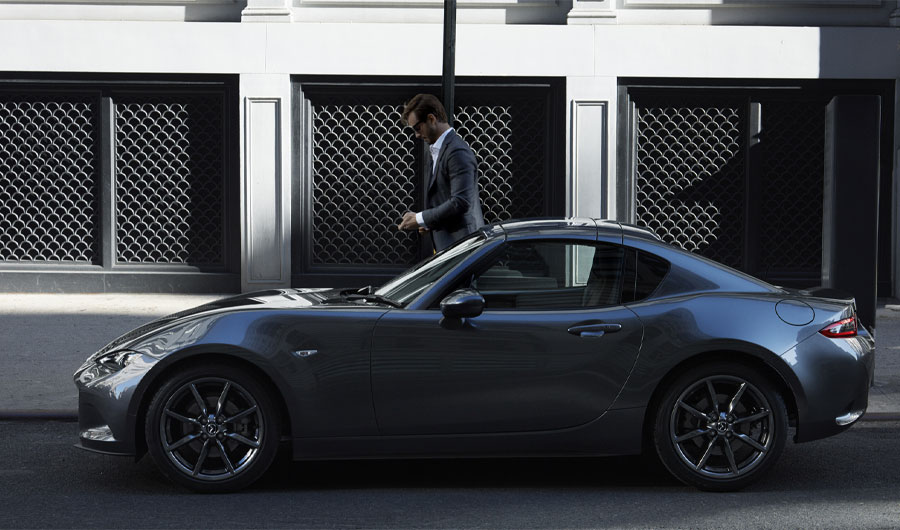 Mazda MX-5 RF
From our award-winning SKYACTIV Technology and stunning KODO design, everything in the Mazda MX-5 RF has been carefully designed to deliver driving pleasure and enhance the power of those sitting behind the wheel - creating an intimate Jinba-Ittai bond between you and the Mazda MX-5 RF.
Mazda MX-5 RF features a retractable hardtop that has been beautifully crafted using the flowing KODO: Soul of Motion design theme. This advanced roof can be opened while driving (up to 6mph), and transferring you from the quiet of the cabin to the exhilarating joy of open air driving.
It's the very best of both open and closed top driving.
SE-L
Engine start / stop button
16" Black alloy wheels
Electrically-adjustable, heated door mirrors
2 Driver's headrest speakers
Integrated Bluetooth®
Sport
Cruise control with adjustable speed limiter
Smart keyless entry
17" Bright alloy wheels
Dusk-sensing lights
Multimedia Commander and separate volume control dial
Sport Tech
Climate control air-conditioning
LED daytime running lights
Rain-sensing front wipers
Rear parking sensors
Premium Bose® sound system
GT Sport Tech
Door Mir­rors - Pi­ano Black elec­tric­ally ad­just­able, heated
Front strut brace
Head­lights - LED
Head­lights - Ad­apt­ive LED Head­lights (ALH)
In­teri­or mir­ror - auto-dim­ming rear-view mir­ror
Gear shift & park­ing brake - Leath­er-wrapped
En­gine Start / Stop but­ton
Exterior
Elegant flowing lines - The elegant styling of the MX-5 RF roof features side sections that slope down gently towards the rear, whilst also neatly tucking in at the sides to create a perfect teardrop shaped cabin around the driver. This flowing roofline fuses with the straight body line which runs from the low front overhang over the bonnet through to the rear deck, creating a graceful fastback silhouette guaranteed to turn heads.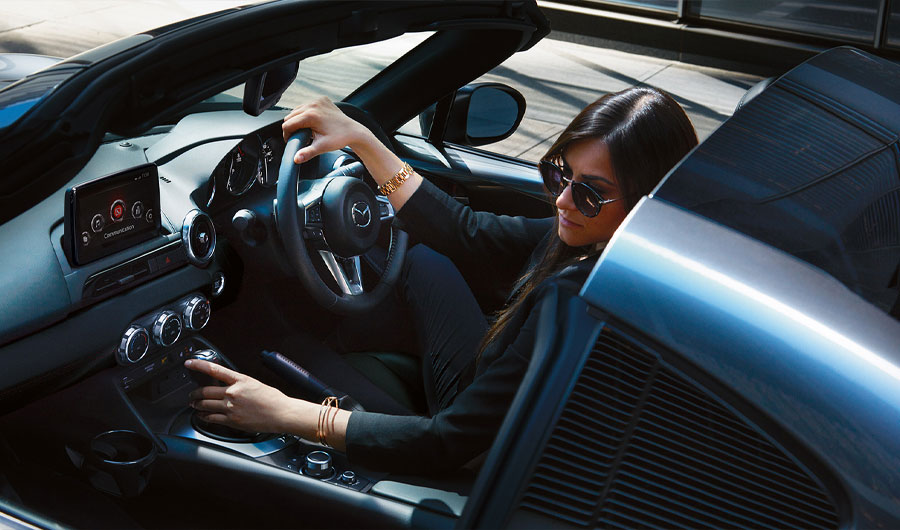 Interior
Luxurious interior details - Focusing on ultimate driver comfort, the cockpit design of the MX-5 RF places all major controls in perfect symmetry. The soft touch materials and high quality of the leather seats* enhances the relaxing and sophisticated ambience of the interior style.
*Sport Nav models only
Steering wheel design - Wrap your hands around the premium leather steering wheel with red stitch detail and stylish satin chrome finish, whilst controlling your music via the handy steering wheel audio controls. The ergonomic shape is designed to fit your hands, enabling quick and easy control when on winding roads.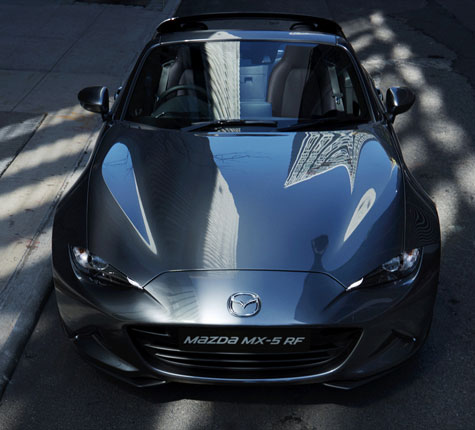 Advanced safety technology
Mazda takes safety seriously. Using a human-centric approach, we've created an array of advanced safety technologies to keep you safe on the road at all times. Our proactive range of features helps you recognise and prevent potential hazards and aims to prevent and reduce collisions wherever possible.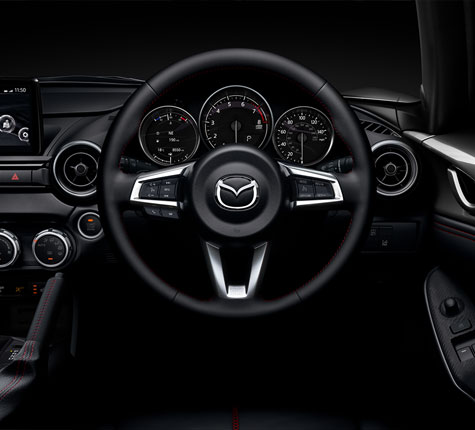 Rear cross traffic alert
RCTA is designed for when you are reversing. An alarm alerts you of any vehicles or obstacles approaching from either side of the rear of the car, and stops once the area is clear.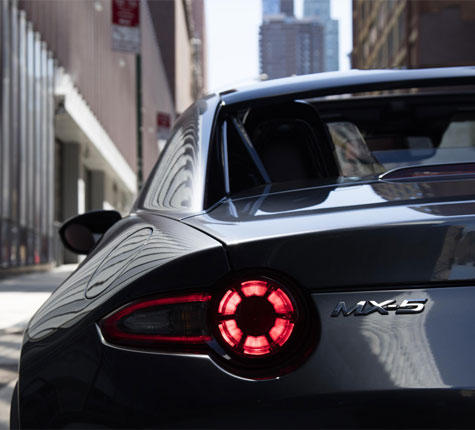 Kodo design
The newly designed MX-5 RF demonstrates a perfect expression of our award-winning KODO: Soul of Motion design language. Perfectly proportioned with stunning fastback lines, this two-seater sports car brings joy to everyone that sees it.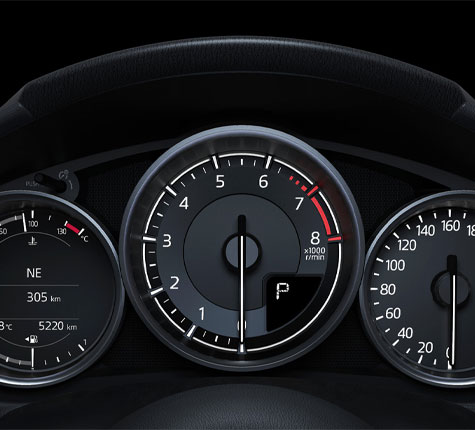 Roof design
Thanks to the exquisite roof design, you get to enjoy a new open-air sensation whilst feeling safe and secure in the comfort of the premium cabin.
Contact
Perrys
Contact us today for more details on the mazda mx 5 rf range or to book a test drive.