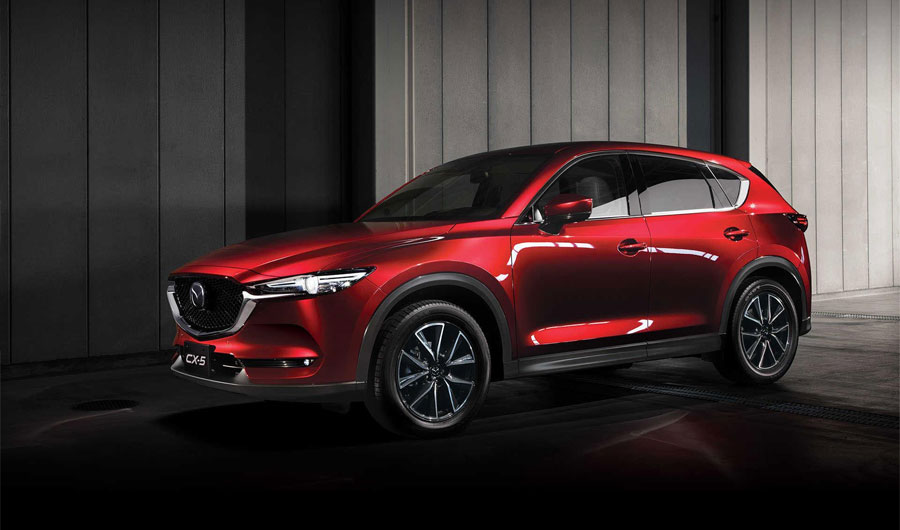 Mazda CX-5
All-new Mazda CX-5's KODO Design conveys beauty and energy. From the front to the rear, the styling creates the exciting impression of a powerful forward momentum, of pure agility and speed. To highlight the SUV's bold and sensual curves, Mazda developed Soul Red Crystal Metallic paint, with our unique high-quality painting technology TAKUMI-NURI, designed to express exceptional texture, creating a colour so vivid and rich in depth it has to be seen to be believed.
The exquisite interior is built around the driver and passenger to ensure ultimate comfort, a feeling of openness, integration and business-class comfort for all. Fine craftsmanship is everywhere.
SE-L
AM / FM / DAB ra­dio with 6 speakers
Cruise Con­trol - Mazda Radar Cruise Con­trol (MRCC)
Driver's seat - manu­al 6-way ad­just­ment with ad­just­able lumbar sup­port / Front pas­sen­ger seat - manu­al 6-way ad­just­ment
In­teg­rated Mazda Nav­ig­a­tion sys­tem with 10.25" TFT Co­l­our centre dis­play, Mul­ti­me­dia Com­mand­er fea­tur­ing Apple Car­Play® & Android Auto™ and 5-years free map up­d­ates
Park­ing aid - Front and rear park­ing sensors (aud­ible warn­ing)
Pre-crash safety - Ad­vanced Smart City Brake Sup­port - Front (SCBS)
Kuro Edition
Door Mir­rors - Black co­l­oured mir­ror caps
Driver's seat - power 6-way ad­just­ment and ad­just­able lumbar sup­port / Front pas­sen­ger seat – power 6-way ad­just­ment
Power lift­g­ate
Sport
AM / FM / DAB ra­dio fea­tur­ing 10-Speaker Bose sur­round sound sys­tem, with Bose Cen­tre­point 2 sig­n­al pro­cessing and Au­di­o­Pi­lot 2 noise com­pens­a­tion tech­no­logy.
Driver's seat - power 8-way ad­just­ment with memory and ad­just­able lumbar sup­port/Front pas­sen­ger seat – power 6-way ad­just­ment
Park­ing aid - Re­vers­ing cam­era
Power lift­g­ate
Se­cur­ity - Smart key­less entry
Wind­screen pro­jec­ted co­l­our Act­ive Driv­ing Dis­play (head-up dis­play) with Traffic Sign Re­cog­n­i­tion
Wipers - Front wiper de-icer
GT Sport
Black roof lin­ing with wood trim de­tail­ing on up­per dash­board and door cards
Driver At­ten­tion Alert (DAA)
Head­lights - Ad­apt­ive LED Head­lights (ALH) (Sig­na­ture LED)
In­teri­or mir­ror - frame­less, auto-dim­ming rear-view mir­ror
Park­ing aid - 360 View Mon­it­or (front, rear and side cam­eras)
Power tilt & slide sun­roof
Pre-crash safety - Ad­vanced Smart City Brake Sup­port - Rear (SCBS-R)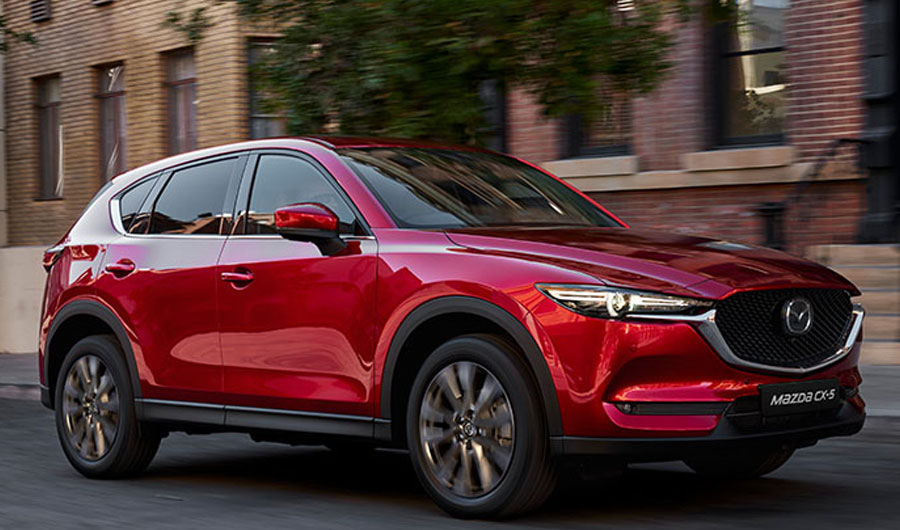 Exterior
Bring out the beauty with soul red crystal - Soul Red Crystal is a new colour that heightens the beautiful forms and textures of KODO Design in the all-new Mazda CX-5. Evolved from our original iconic Soul Red, Soul Red Crystal intensifies the vividness, depth and lustre of the bodywork as it moves between light and shade, created by three coats using our Takumi Nuri technology.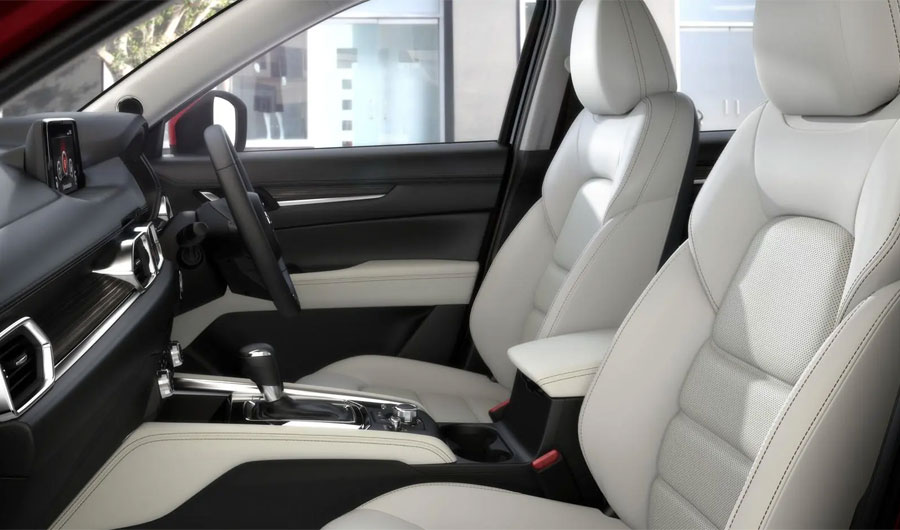 Interior
Built around you for better safer driving - At Mazda we always start with you and the most natural position for the seat, pedals, controls and steering wheel. When you feel comfortable the Jinba Ittai driving pleasure is enhanced.
Passengers will love the drive as much as you do. With improved aerodynamics and insulation to keep out noise, friends and family will find it as comfortable and relaxing in the back as you do behind the wheel.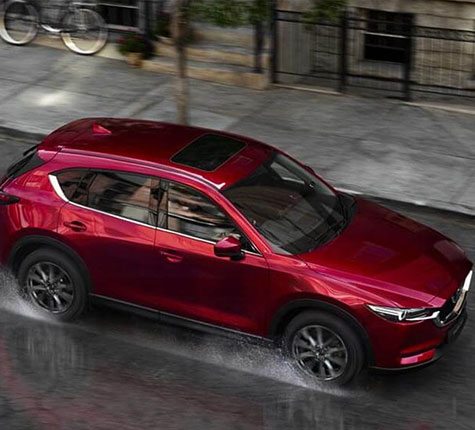 Sporty alloy wheels
With its low, sleek and well-proportioned shape, the sportiness and sophistication of all-new Mazda CX-5 Sport Nav is enhanced with 19" Gunmetal alloy wheels.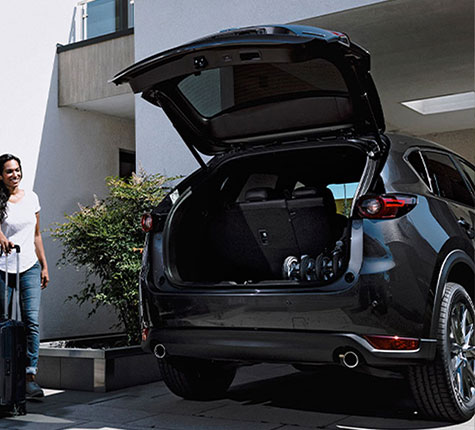 Reclining rear seats
Passengers in the rear seats will never feel like they need to be at the front. The new seats have been completely redesigned and are deeper and more figure-hugging for excellent comfort. On long journeys, the seats can be reclined for relaxation.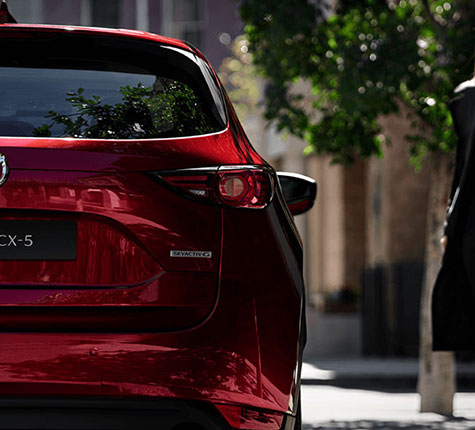 I-Active all-wheel drive
Mazda's i-ACTIV AWD system gives you better control as you accelerate, turn, brake and deal with slippery road conditions. Just enough torque is sent to the rear wheels to add traction for more grip and deliver a stable, secure driving experience.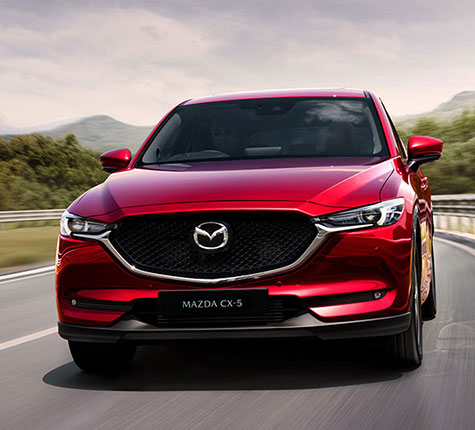 Skyactiv-body and skyactiv-chassis
Lighter cars increase driving pleasure and save fuel. The all-new Mazda CX-5's SKYACTIV-BODY is one of the safest and lightest kerb weights in its class. Enhancements to the suspension, insulation and SKYACTIV-CHASSIS add to a quieter, more refined and comfortable drive.
Contact
Perrys
Contact us today for more details on the Mazda CX-5 range or to book a test drive.