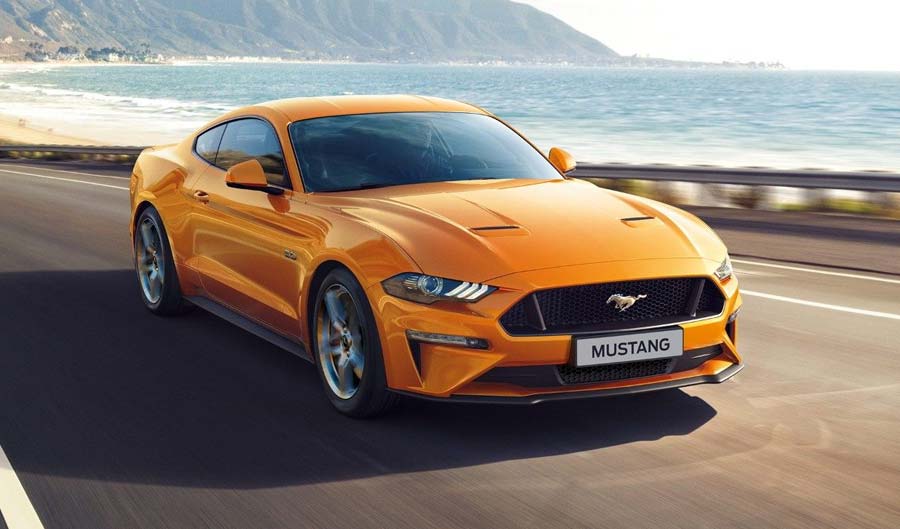 Ford Mustang
As soon as you start the Ford Mustang, you'll fire up a range of advanced technologies that enhance your driving experience in every way. For example, the new 12" digital instrument cluster delivers invaluable information, all optimised to match the drive mode: Normal, Sport+, Snow/Wet, Track, and Drag Strip. The cluster even changes its appearance to suit the mode. New Mustang also comes with MagneRide™ Damping System, an advanced suspension that provides outstanding control on the track and exceptional comfort on the road. And with Adaptive Cruise Control, you choose the speed you want to drive at. The system then brakes or accelerates automatically to help maintain it.
GT
KEY FEATURES
19" 10x2-Spoke Alloys, black finish, with Michelin Pilot Sport 4 tyres
LED headlamps with daytime running lights
LED Rear Lights
Power-folding door mirrors with Mustang logo projection puddle lamps
GT front grill with vertical power bars, GT exterior badge, and quad tailpipes
Mach 1
KEY FEATURES
19" 5-Spoke Alloys, Magnetic finish, with Michelin Pilot Sport 4 tyres
LED headlamps with daytime running lights
Power-folding door mirrors with Mustang logo projection puddle lamps
Mach 1 front grille with low gloss magnetic pony badge, Mach 1 badges, unique Mach 1 stripe pack
MagneRide® Adaptive Suspension System with unique Mach 1 calibration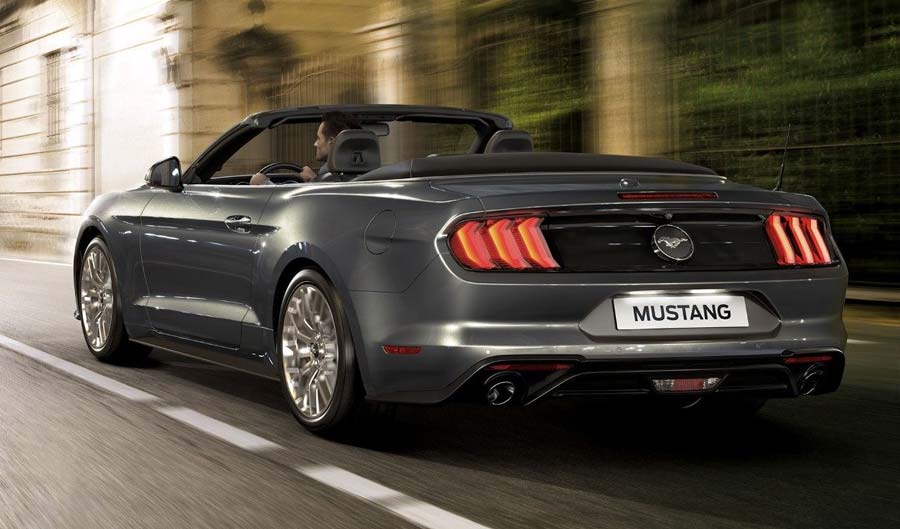 Exterior
Roar on demand - We've added dual-fuel, high-pressure direct injection to the Mustang's renowned 5.0L V8 engine to improve its performance even further. We've also increased the overboost on the 2.3L EcoBoost engine to do the same whilst, remarkably, reducing emissions. Whichever engine you choose, you'll enjoy either a smooth and responsive 6-speed manual or a sophisticated 10-speed automatic transmission. With Active Valve Exhaust, you can even control the sound of your Mustang. For example, select Race Track mode to dial up the engine's rumble and roar. Or choose Quiet Mode for more peaceful surroundings.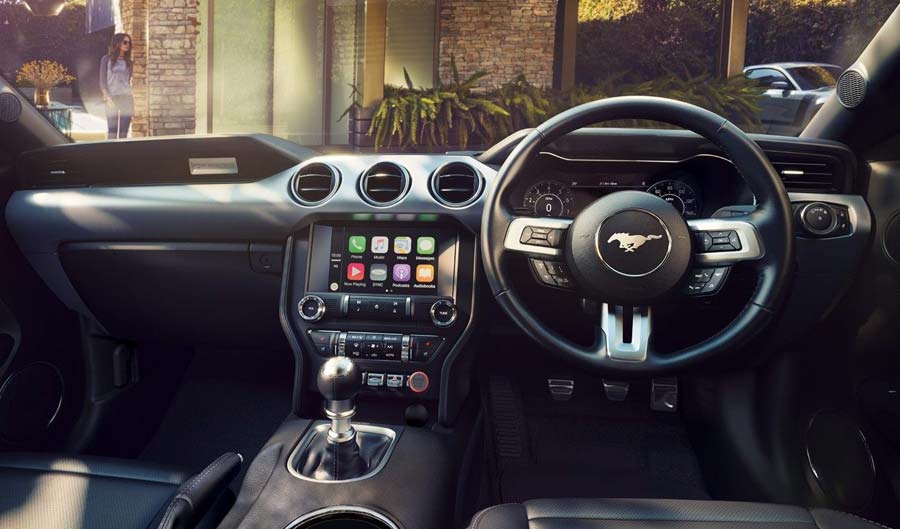 Interior
Power-assisted steering that responds to every situation - Electric power-assisted steering (EPAS) automatically adjusts to your speed and the conditions. At low speeds, the system makes wheel turns feel lighter and easier, improving manoeuvrability. At high speeds, when you need greater control, it firms up the steering. Now with drift control, EPAS also takes into account crosswinds and other driving conditions, while active nibble control reduces any unwanted vibration in the steering wheel.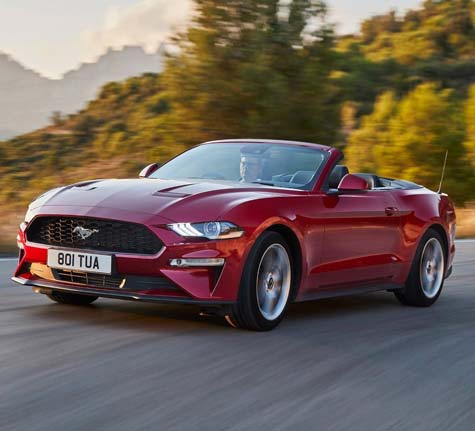 Your Mustang. Your rules
With MyMode, you can program your own personal drive mode and save your preferred settings. That includes steering effort, throttle response, gearshift control (automatic only), Electronic Stability Control settings, and even the intensity of the car's Active Valve Exhaust.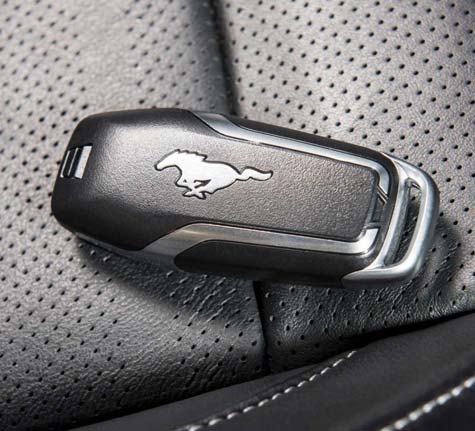 Worry-free car sharing with MyKey
Ford Key® lets you set a pre-selected maximum speed limit, a seatbelt reminder and even the volume of the audio system. The technology is designed to give you peace of mind if you lend your vehicle to a friend or family member, because you can programme the restrictions you want to set for that key.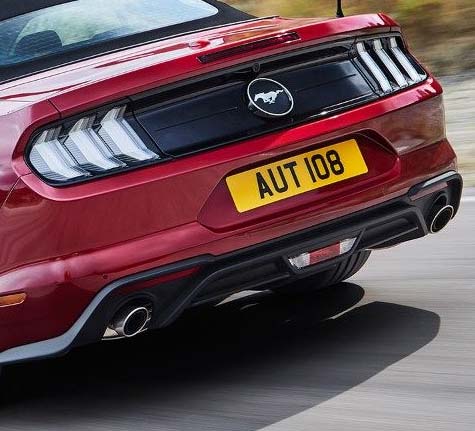 Active Valve Exhaust
Take control of the sound your Mustang makes with this new technology. Simply choose Active Valve Exhaust from the menu on the 12" Digital Cluster and you can adjust the intensity of the exhaust note from four different settings: Quiet, Normal, Sport or Race track. With Quiet Mode you can even set up a timer so you know exactly when it's going to operate.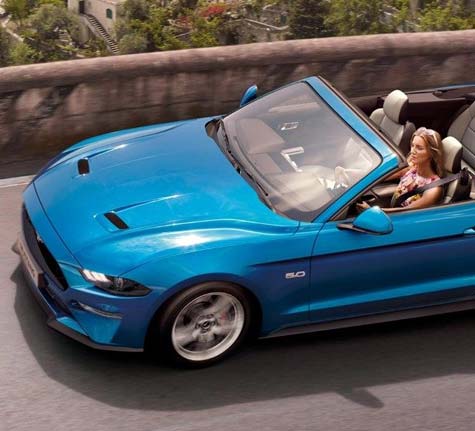 A system that can help protect pedestrians
Pre-Collision Assist with Pedestrian Detection uses radar and camera technology to scan the road ahead. If a collision risk with a vehicle or pedestrian is detected, it'll then provide you with a warning. If you don't respond in time, the system can automatically apply up to full braking force to help reduce the severity of, or even eliminate, some frontal collisions.
Contact
Perrys
Contact us today for more details on the Ford Mustang range or to book a test drive.
Here are a small selection of the latest new car offers available. For more options contact your local Perrys branch and we can walk you through all the offers available to suit your budget.
Ford Mustang Offers in Alfreton, Aylesbury, Chesterfield, Dover, High Wycombe, Mansfield, Retford and Worksop
Sorry no offers were found for this vehicle