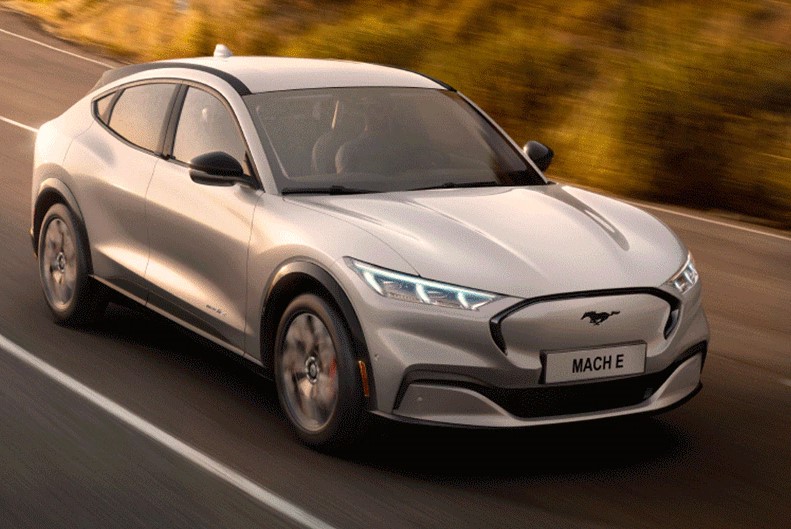 Mustang Mach-E
The Mustang Mach-E is 100% electric and 100% muscle, just not as you know it. It's a performance SUV that harnesses the fuel of tomorrow to deliver instant acceleration and performance out of this world. Available with a single or dual motor producing up to 332bhp and 429 lb-ft of torque, you're looking at an SUV that'll throw you back into your seat, make exotic cars blush and put a big smile on your face.

But it isn't all about go. The Mustang Mach-E is beautifully proportioned and extremely well-built, with a muscular body, a wide stance and a seriously impressive interior. Just being in it, and being seen in it, is an event. It all adds to the sense the Mustang Mach-E is a very special car. Choose from the standard Mach-E and the AWD model, with limited orders available for the in-demand 'First Edition' model.
Mustang Mach-E
370 miles of range, DC fast charging with controlled boosts up to 150 kW (115 kW for standard range), and intuitive technology assist the driver and deliver a superior cabin experience.
Mustang Mach-E AWD
More acceleration and sportier drive, with its dual motor permanent All-Wheel Drive providing power to the front and rear axles, for a rewarding and dynamic driving experience.
Mustang Mach-E First Edition
The First Edition model, with limited volume, comes standard with a full panorama roof, B&O 10-speaker audio system and intelligent driver assist technologies, and an exclusive Grabber Blue Metallic body colour.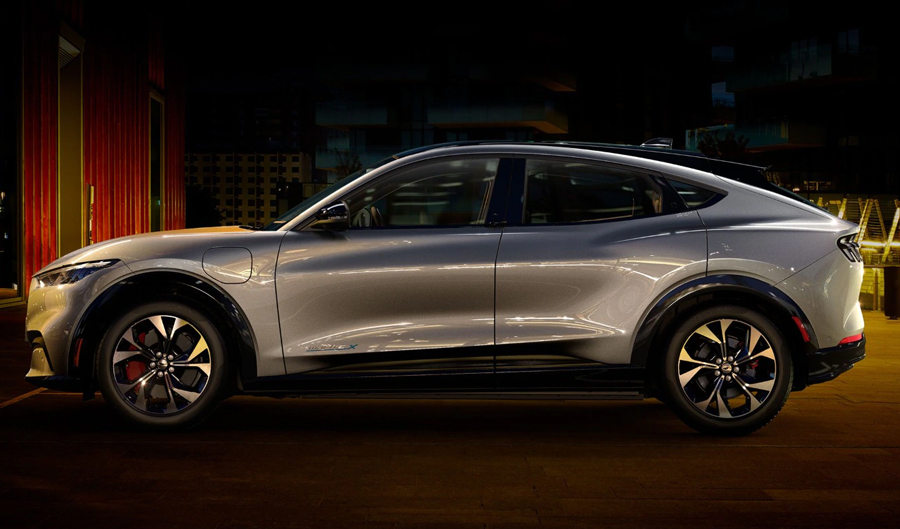 Exterior
The Mustang Mach-E does more than make a solid first impression - it commands a second look. It is unmistakeably inspired by the Mustang muscle car, with a sloping roofline, tapered headlights and a planted, ready stance. Beautiful LED headlights and taillights with a signature pattern ensure you stand out. First Edition models boast a panoramic sunroof and exclusive Grabber Blue Metallic body paint.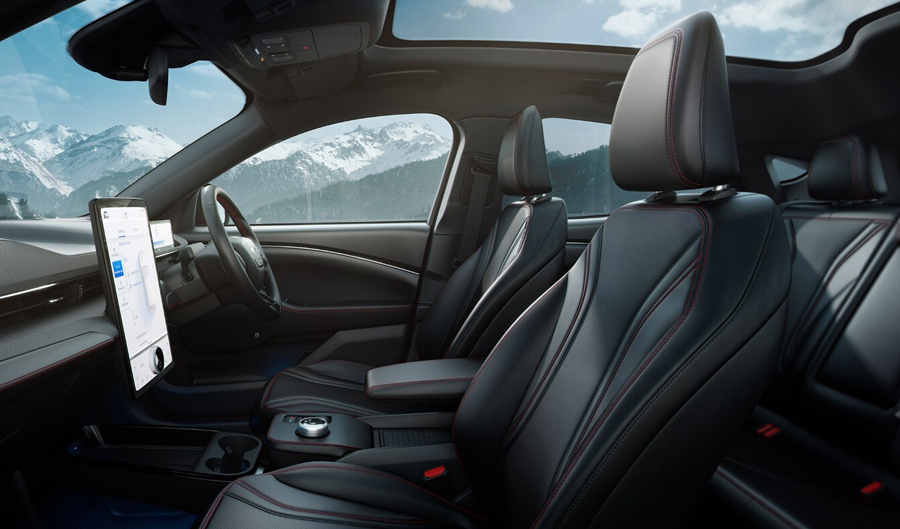 Interior
The cabin is dominated by a vertically-mounted 15.5" touchscreen which has the responsiveness and crispness of the best tablet computers. There's also a 10.2" driver's display in place of analogue dials, making everything you interact with digital. The materials and the fit and finish are beautiful, with leather upholstery, interesting textures and soft touch materials everywhere. You'll melt into it.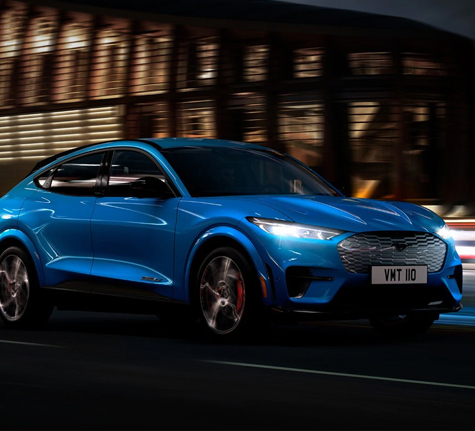 Drive
The standard Mach-E is powered by a single electric motor which powers the rear wheels only. The Mach-E AWD is powered by a dual electric motor; one drives the front wheels, the other the rear wheels to give you all-wheel drive.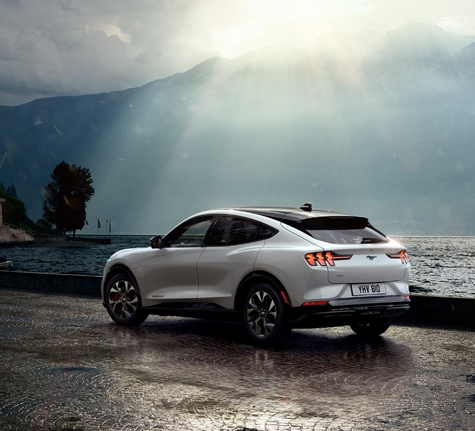 Range
The extended WLTP range for the single motor Mach-E is 370-miles while the standard range is 280-miles. The extended WLTP range for the dual motor Mach-E AWD is 335-miles, while the standard range is 260-miles.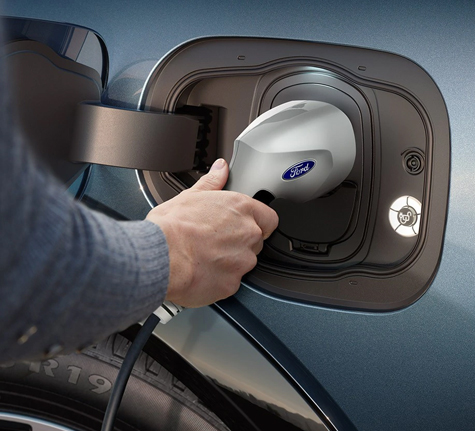 Charging
The Mach-E is compatible with AC and DC fast chargers up to 150kW. A 10-minute charge at a 150kW station will give you 57-miles of range. Charging from 10 to 80% takes just 38 minutes. A 100kw station will give you 40-miles of range in 10 minutes.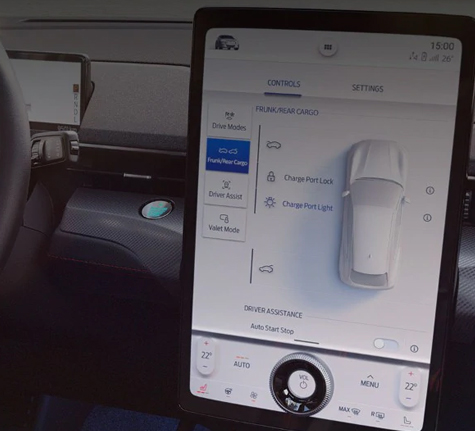 Technology
From its 15.5" touchscreen and 10.2" digital instrument cluster to its heated windscreen, next-gen SYNC system and driver assistance aids, the Mustang Mach-E is packed with technologies that make daily journeys that little bit easier.
Contact
Perrys
Contact us today for more details on the ford mustang mach e range or to book a test drive.