Mazda6 smashes speed records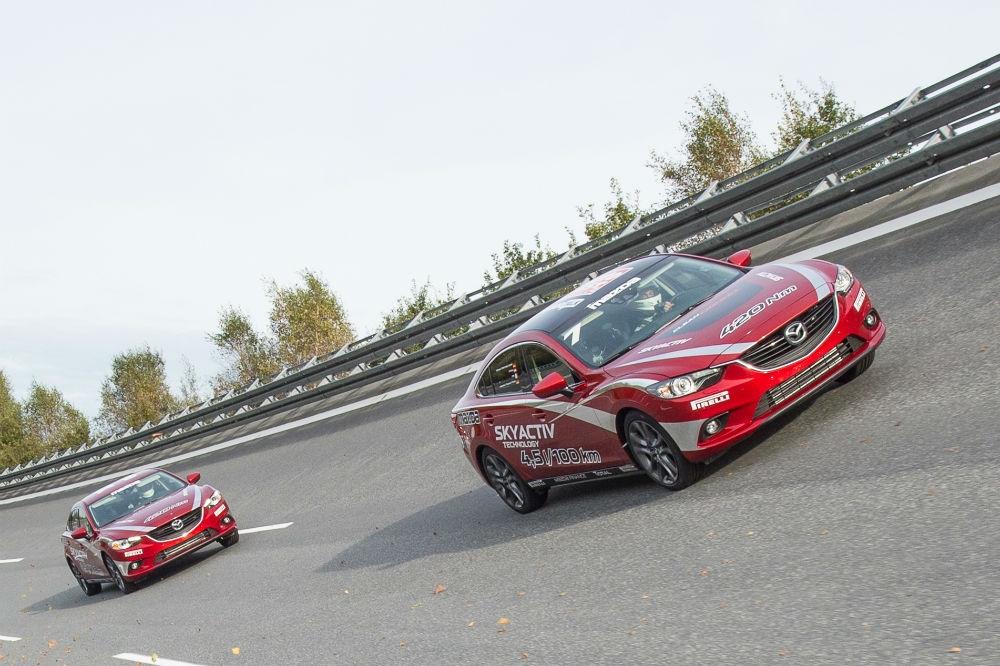 Three Mazda6 family cars shattered 20 FIA speed records at the ATP test track in Germany last weekend.
24-hour marathon run
The trio of Mazdas competed in a 24-hour marathon run around the high-speed track on Sunday, powered by the carmaker's 173bhp 2.2-litre SKYACTIV diesel engines.
Average speed achieved by the lead car came in at 137.7mph, with the other two not far behind. The previous average speed set by a diesel-powered production car sits at just 130.38mph, meaning that the Mazda6 trounced the record by more than 7mph.
According to the carmaker, each of the three award-winning Mazda6 models each set several other speed records across a variety of distances and covered 3,293 miles between them during the 24 hour period.
A total of 23 drivers from seven European countries took part in the marathon, including professional drivers, journalists and car enthusiasts who applied to take part last May.
Each driver drove for an hour and a half on the German track, and each was specifically instructed not to follow the slipstreams of other cars in order to avoid skewing the results.
At the end of the marathon drive, each Mazda car was only 0.55mph behind the other, displaying not only the consistency of the drivers, but of the dependability of the Mazda6 models themselves.
SKYACTIV engine
The 2.2-litre SKYACTIV diesel units feature a 14:1 compression ratio, the lowest ever in a diesel engine.
As well as having provided victory in Germany, the same engine also made the Mazda6 the first diesel-powered car to ever win a race at the Indianapolis Motor Speedway in the US last year.
Available in all of Mazda's core models, including the CX-5, Mazda6 and Mazda3, the carmaker says that this ultra-efficient diesel will also make an appearance in the new Mazda2 supermini.
Recently named the Japanese Car of the Year before even being released, the new Mazda2 has already managed to generate a sizeable amount of hype around itself.
Billed by Mazda as having the quality to topple even the Ford Fiesta from the top of the sales charts, the company says that the Mazda2 will feature "excellent mileage, reasonable pricing and unique design".
Other features will include a class-first heads-up display, Mazda's MZD Connect infotainment system, and a "surprising" amount of space inside, with lots of legroom for rear passengers.
Prices for the Mazda2 have yet to be announced, but the Mazda6 is available to buy now, priced from £19,595.