Kia to tour FIFA World Cup around UK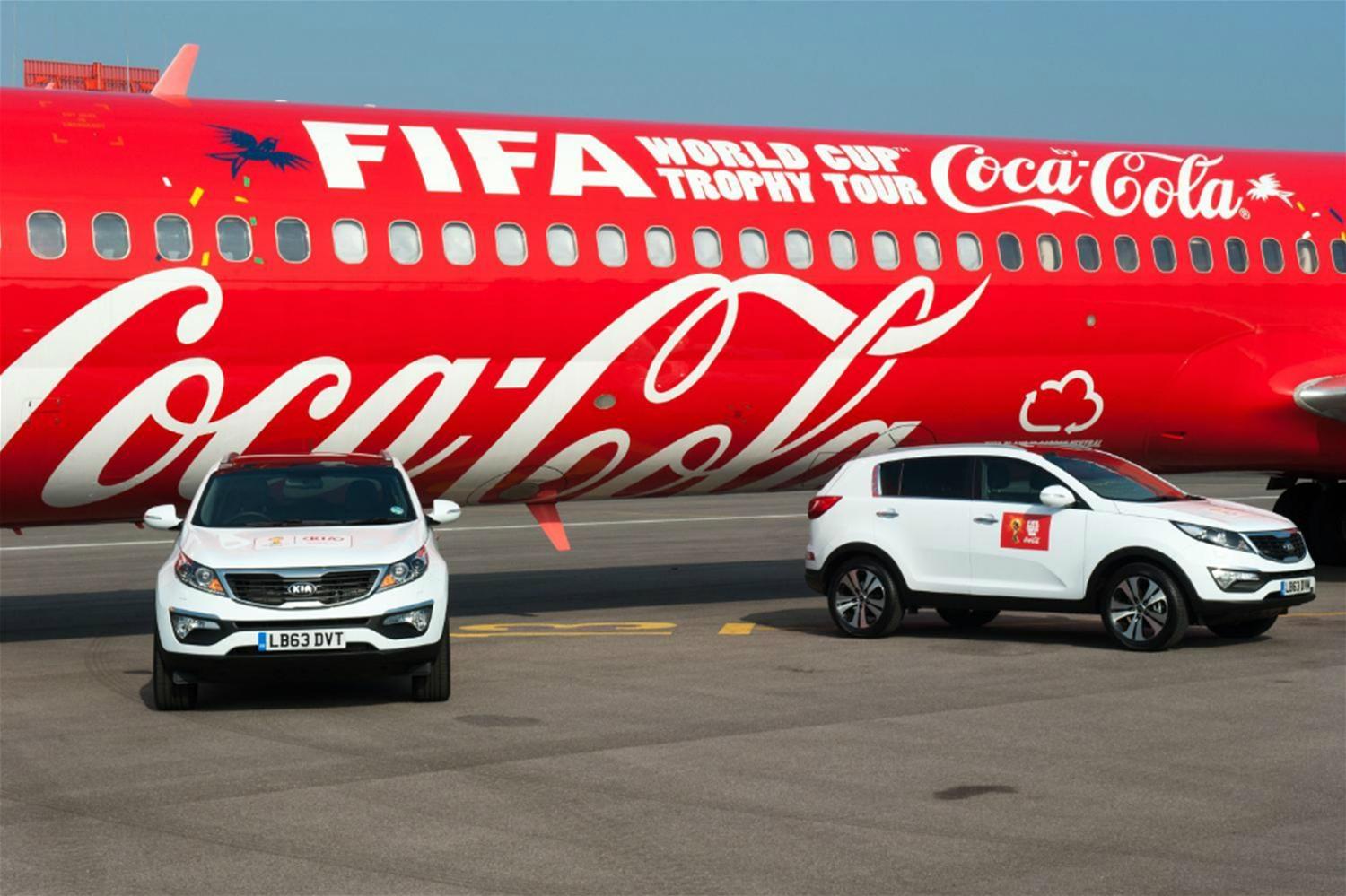 To build up the hype for this summer's football World Cup in Brazil, the original trophy for the tournament is to travel around the world in the run-up to the tournament.
The trophy has been travelling around on a tour which will take to 90 countries in total in a space of 267 days. The FIFA World Cup trophy has arrived this week for its UK leg which will run until the 18th March 2014.
To allow the famous football trophy to travel around Great Britain safely as well as in style, Kia is supplying a fleet of twenty white Sportage crossover vehicles for the trophy and its entourage. The FIFA World Cup trophy will visit five cities in total across England, Scotland and Wales. Locations include Southend-on-Sea, Glasgow, Cardiff, Manchester and London.
At each city it stops at, the trophy will be displayed inside a specially designed transportable dome, where football fans will have the opportunity to see the Trophy up close and to have their picture taken with it.
The President and CEO of Kia Motors UK, Paul Philpott, comments: "Football fan or not, everybody gets excited about the FIFA World Cup.
"Although the Trophy may only be touched by those who have won it or heads of state, Kia Motors UK is proud to get the UK leg of the FIFA World Cup Trophy Tour by Coca-Cola around the globe on the road, enabling fans to get as close as possible to the Trophy and share an unforgettable experience."
The Sportage, which will play a big part in touring the World Cup, is Kia's current best selling new car in the UK market. Since the start of 2014 Kia has been selling a refreshed version of its highly rated crossover vehicle.
Currently priced from £17,495, the latest Sportage has a redesigned front grille and alloy wheel design for this year. Inside meanwhile there's a redesigned instrument display, with higher trim levels now incorporating a 4.3-inch infotainment screen.
A heated steering wheel and a six-way power adjustable driver's seat have also been added to top-spec models for 2014.
The engine line-up remains almost identical for 2014, although the Sportage does add an all-wheel drive powertrain with a 134bhp 2.0-litre CRDi diesel for the entry-level '1' trim. The Sportage is still available with a 33bhp 1.6-litre GDi petrol unit. All engines are linked to a six-speed manual gearbox as standard.