How to use the Perrys car cost calculator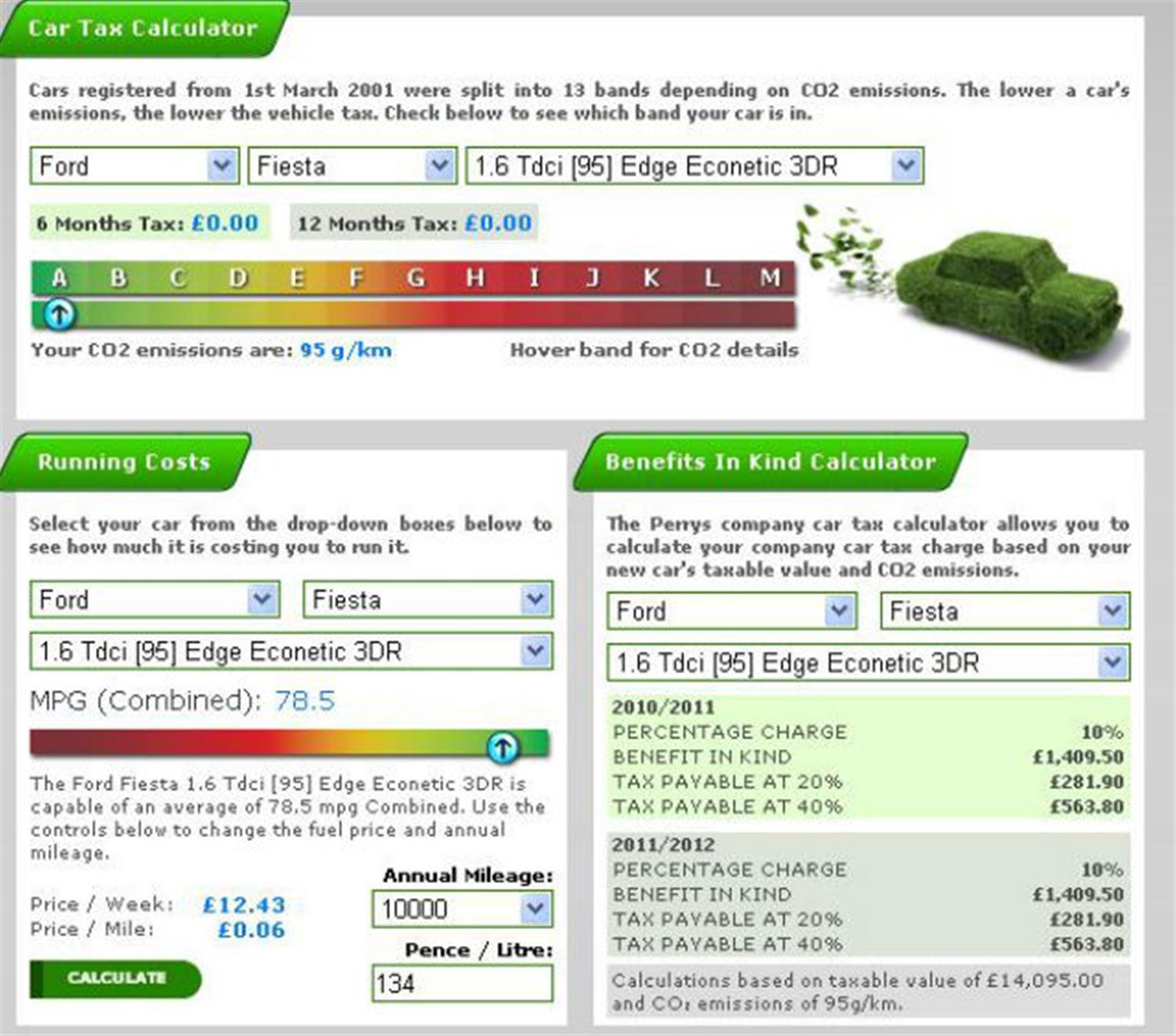 Car makers like to throw around figures when a new car is launched; CO2, MPG and BIK are just some of the confusing running costs facing a new car buyer.
But most people buying a new or a used car only want to know how much that car will cost them to run on a weekly, monthly or yearly basis.
Instead of wading through the information yourself for several different cars, why not use our car running cost calculators to quickly and easily find and compare car running costs for every car on sale at Perrys Motors?
Below is a quick guide on how to use our car cost calculators and what the resulting figures mean for you.
Car tax calculator
Car tax is often referred to as road tax or its official name, Vehicle Excise Duty. A full guide to road tax can be viewed here.
In short, road tax is an annual fee that is payable on all cars in the UK. It is based on the CO2 emissions of an individual car.
This means a new Ford Fiesta, for example, will pay a variety of different road tax levels depending on the size of the engine.
For example, a car with a small, efficient engine and low CO2 emissions will fall into a lower 'band' of road tax and will cost less to run.
If that same car comes with a more powerful engine with higher CO2 emissions, the owner will need to pay more in road tax.
The CO2 emissions figure is an official figure given to a car before it goes on sale. Meanwhile, the road tax bands are labelled A-M (with A being the cheapest).
Instead of searching for the car emissions level in a road tax band table, you can simply choose the make, model, engine and trim of your car in our drop down boxes.
This will then show you how much the car costs to tax for six months or the full 12 months. The result also shows a scale between A to M of the road tax bands with an arrow pointing to where the selected car falls – there's no prizes for guessing the green end of the scale is better than the red!
Running costs
Road tax is a one-off yearly payment but perhaps more important for potential car buyers are the day-to-day running costs of a new and used car.
This is based around the amount of fuel that a car uses every mile. While most manufacturers will give an official miles per gallon (mpg) figure – and you can read our guide to fuel consumption here – it doesn't really mean much until a monetary value is placed on it.
For example, we've entered a Ford Fiesta 1.6-litre diesel into the running costs calculator.
The first bit of information is a bar showing the mpg figure of the car. In this case it is an impressively high 78.5mpg. You can tell this is high because the arrow is positioned to the right of the bar, well into the green section of the scale.
Underneath this information there are two more boxes to select. These include your predicted annual mileage – that is the number of miles you expect to drive over a 12 month period – and the current price per litre of fuel (in pence).
The calculator will then use the mpg figure, your annual mileage and the price of fuel to calculate the cost of running the car per week.
It will also provide a price per mile figure to show how much you will be shelling out per mile driven. In the Ford Fiesta example, it is a tiny six pence per mile.
This is an ideal tool to compare similar cars based on your annual mileage and the current price of fuel. It is also a handy tool to compare the cost of driving a petrol or a diesel car.
Benefits-in-Kind calculator
The Benefit-in-Kind tax is more complicated than the other two but it does only apply to company cars and not private vehicles.
This means you only need to use the Benefit-In-Kind calculator if you are a fleet manager or business user. You can find our guide to Benefit-in-Kind tax here.
Benefit-in-Kind tax is based on the list price of the car, the type of fuel and CO2 emissions. Most manufacturers will tell you the 'band' of tax a car falls into.
Once again the Benefit-in-Kind calculator includes drop-down boxes showing manufacturer, model, engine and trim details.
Once you have chosen your car, it will then list two sections of information; 2010/11 charges and 2011/12 charges.
Obviously, you can disregard the 2010/11 charges and focus on the 2011/12. For 2012/13, there will be a new set of data once again.
This is because Benefit-in-Kind tax is prone to change each year by the government – however it means using Perrys' calculators is much easier than trawling through information yourself!
The information will show the percentage charge. This means the percentage of the list price of the car that will be charged.
Underneath, the Benefit-in-Kind figure shows the 20 per cent rate and the 40 per cent rate. This is the actual amount you will pay depending on your salary. For those earning £35,000 or less the value will be the 20 per cent value.
Anything above that will result in the 40 per cent value.

Visit our car cost calculator here