Everything You Need to Know About Motability
What is Motability?
The Motability Scheme is a charitable organisation that enables people with disabilities to have more freedom and mobility by exchanging their allowance for a lease on a brand-new car, wheelchair accessible vehicle (WAV), scooter, or powered wheelchair.
People who are less mobile will be able to regain their confidence, freedom, and independence with vehicles that can be adapted to each person's needs, allowing inclusivity for all.
How does the Mobility Scheme work and are you eligible?
The scheme works by exchanging the mobility part of your disability allowance for a lease on a brand-new car of your choice.
To be eligible for the scheme you must receive one of these disability allowances:
Enhanced Rate of the Mobility Component of Personal Independence Payment (PIP) – As of 11th April 2022 the allowance is currently at £64.50 per week.

Higher Rate Mobility Component of the Disability Living Allowance (DLA) – As of 13th April 2022 the allowance is currently at £64.50 per week.

War Pensioners Mobility Supplement (WPMS) – Allowance is currently £72 per week.

Armed Forces Independence Payment (AFIP) – As of 13th April 2022 the allowance is at £64.50 per week.
You will need to have 12 months or more remaining on your allowance when you apply.
Check if you are eligible by visiting our website here.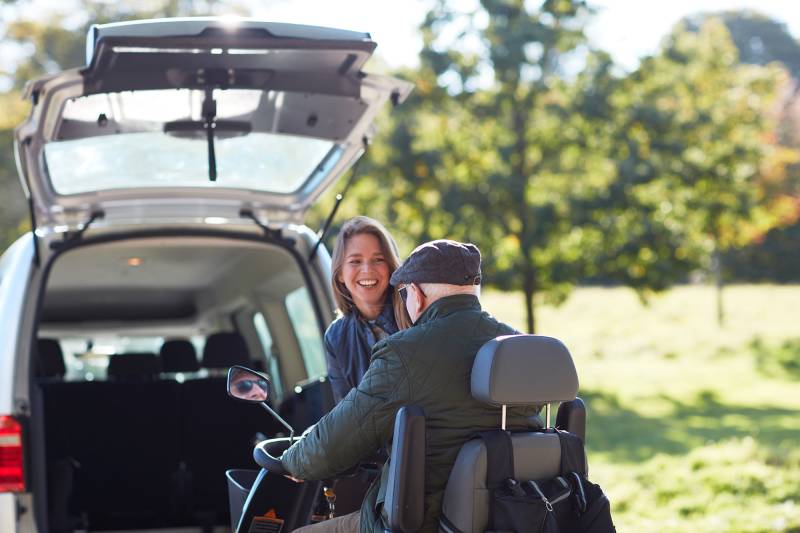 What do the Mobility Packages include?
The scheme includes several benefits including:
Insurance from RSA Motability

Servicing and maintenance

Full RAC breakdown assistance

Annual car tax

Kwik Fit replacement tyres

Windscreen repair/replacement

60,000 mileage allowance over three years (or 100,000 for WAV customers)

Many adaptations at no extra cost
You can choose who drives the vehicle and every three years you are entitled to a new car.
How much does leasing through the Motability Scheme cost?
The leasing cost depends on the vehicle you choose, you will exchange all or most of the higher rate mobility part of your weekly disability allowance over the three-year lease. The care component of the allowance will remain untouched, and you will continue to receive this as normal.
You will get some money back if you choose a standard scooter or a powered wheelchair as they cost less than your weekly allowance.
When leasing a car there are three pricing options that you can choose from. Some of the vehicles cost less than your weekly allowance, others cost the same as your weekly allowance and some require an Advanced Payment. Don't forget that you get several benefits included in the weekly payment!
You can search here for cars on the Mobility Scheme that Perrys offer.
Tags: *Motability *Motability_Scheme *Allowance *Advanced_Payment *Leasing *Car_Leasing
Written by Lois | 3.5 min read
04 May 2022