Driving test pass rates: Men vs Women
It's one of the age-old debates; who is the better driver – men or women? While we will tread carefully on this topic it's pretty much impossible to give an actual answer, so therefore we can look at the data. Let's go right back to the start.
The driving test. It's a big day for everyone and can go one of two ways. You can pass and experience a new freedom, or you can fail and face the daunting challenge of having to do it all over again. In this article, we will look at driving test data from the Driver and Vehicle Standards Agency (min 1,000 tests conducted during 2019/20), and see who comes out on top of the battle of the sexes. Also, we will look to see which areas have the best pass rates as well as looking at the rates for areas Perrys represent.
Total - Men vs Women
In a sentence, it's men who have the better pass rates when it comes to the driving test. Men have an average pass rate of 49.9% whereas women have a pass rate of 43%. In 2019/20, more women took a driving test (423,599) compared to men (377,500). Despite this, more men passed their test (188,557) compared to women (182,282).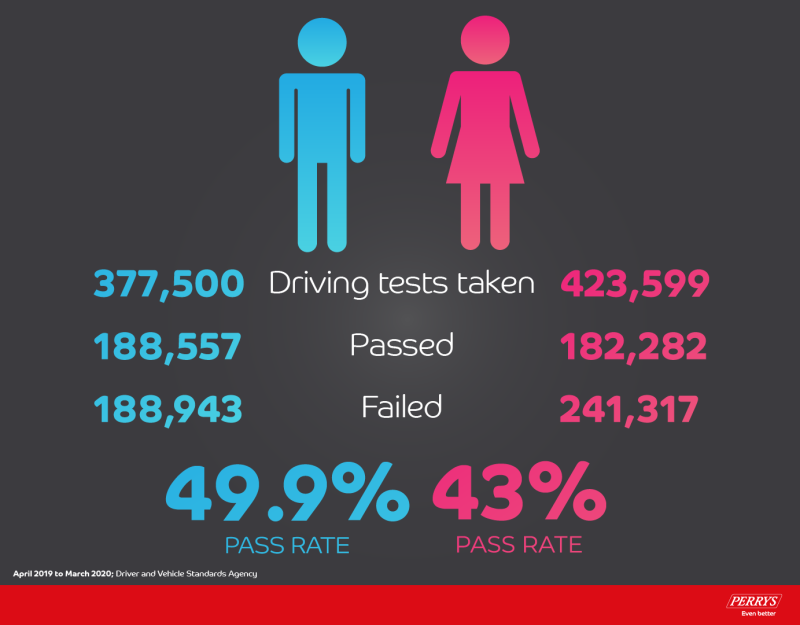 How the gap has changed over the years
I'm afraid ladies it has been the same trend over the past decade. What makes even worse reading is that the gap has been getting bigger. This table shows the men vs women pass rates by year. The gap has slowly been getting wider peaking in 2018/19.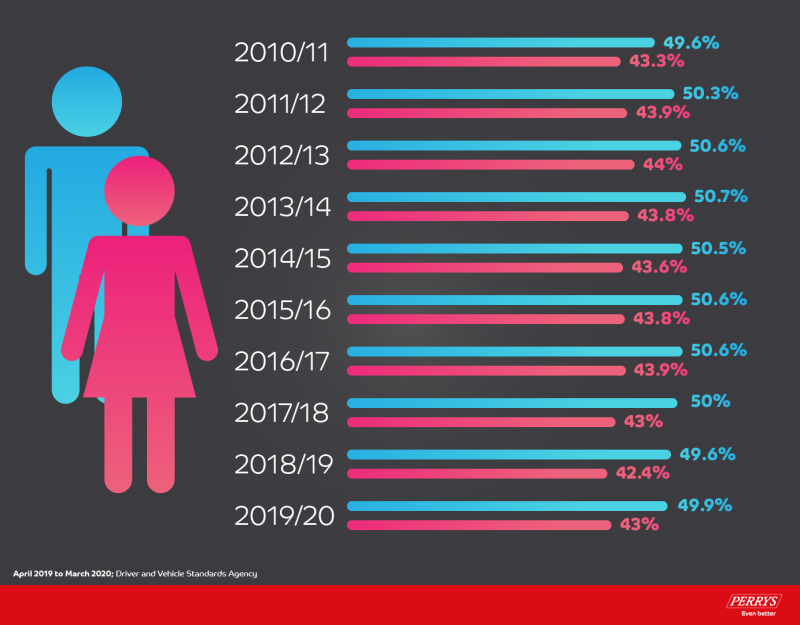 Which area has the best pass rates?
Kendall in Cumbria has the best overall pass rates coming in at a staggering 62%! This is closely followed by Ipswich (60.3%) and Melton Mowbray (60.1%). Goodmayes (London) ranks number one in terms of most passes with a whopping 6,311 passes in 2018/19. We've ranked the best and worse places for pass rates, so if you're based in one of these areas then your luck might be in (or out) when you get to the day of your test.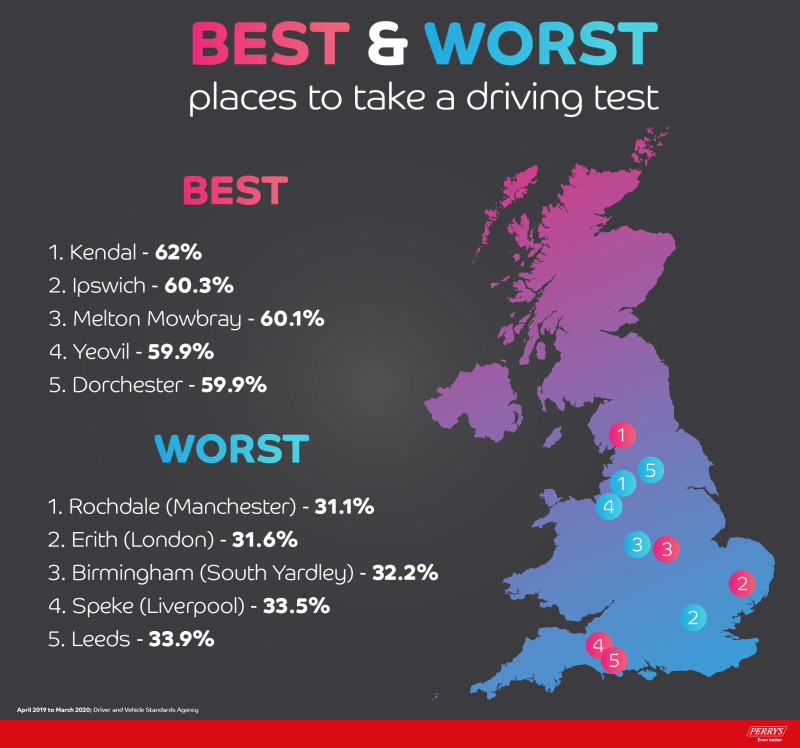 It's quite bizarre that the best and worst places for driving test past rates are less than an hour and a half drive away from each other.
Which area has the biggest difference between males and females?
We then wanted to look at which areas had the biggest differences between men and women. We found that Northallerton in North Yorkshire is where the women are showing the men how it's done with pass rates of 58% and 55.6% respectively. However, if you take a short 50-mile drive from Heaton to Bradford the roles have been reversed with men's pass rates at 50.8% and women's at a low 34%.
Where do our areas rank?
So where do the areas we operate in fair? Here we have ranked Perrys locations and overall pass rates. It's our team members based in Alfreton and Mansfield that have the best pass rates whereas, Bury needs to improve.
| Location | Pass rate (%) |
| --- | --- |
| Alfreton | 56.4 |
| Mansfield | 56.4 |
| Preston | 55.3 |
| Retford | 54.1 |
| Worksop | 54.1 |
| Burnley | 51.4 |
| Colne | 51.4 |
| Nelson | 51.4 |
| Bolton | 50.7 |
| Barnsley | 50.2 |
| High Wycombe | 49.9 |
| Sittingbourne | 48.9 |
| Rotherham | 48 |
| Swinton | 48 |
| Aylesbury | 46.5 |
| Huddersfield | 46.4 |
| Canterbury | 46.1 |
| Chesterfield | 45.7 |
| Doncaster | 45.4 |
| Blackburn | 44.9 |
| Broadstairs | 42.6 |
| Milton Keynes | 42.6 |
| Dover | 40.9 |
| Luton | 37.3 |
| Bury | 35.4 |
Theory test male vs female
It's not all doom and gloom for female drivers as they trump men when it comes to the theory test. During 2019/20 women boast a pass rate of 49.7% compared to the men's 45.8%.
Whilst some locations seem to buck the trend, when it comes to the day of the test men are more likely to pass than women which have been the case for a number of years now. Women still come out on top during the theory test and it's difficult to explain why this is. Could it be down to revision? Or how our brains work? Who are we to say? The gap between first-time passers is slightly smaller with 50.3% of men passing the first time compared to 46.6% of women. It will be interesting to see if this gap can be closed and women take the top spot when it comes to the driving test.
Written by Perrys | 9 min read
27 Oct 2020