10 best beaches in driving distance (East Midlands)
Who else is looking forward to their first trip to the seaside this season? With a few more lockdown restrictions lifted, we're sure many of you can't wait to get out and enjoy the sea breeze with an ice cream or fish and chips. Although the Midlands is the most landlocked region of the UK, there are still plenty of beaches within driving distance that are perfect for a family day out.
Culture Southwest believes that the last year's many changes will make people more impulsive when it comes to days out, rather than planning day trips and holidays ahead – with this in mind, we've made it even easier to be spontaneous with a list of the top 10 closest beaches to the East Midlands! Next time there's a sunny day, simply choose one from below, get in the car, and go…
Skegness
A certified Blue Flag area, Skegness beach is an award-winning sandy beach, which is long and wide – perfect for both games and walking! There are plenty of attractions, including donkey rides and the Fairy Dell paddling pool. Dog restrictions apply, and chargeable car parks are within easy walking distance.
Get directions here.
Mablethorpe
With everything from beach chalets to hire to donkey rides, Mablethorpe beach is the ideal seaside day out for the family. There's a lovely promenade and sailing and wind surfing facilities – dogs are restricted during peak seasons. There are plenty of car parks nearby, which may be chargeable.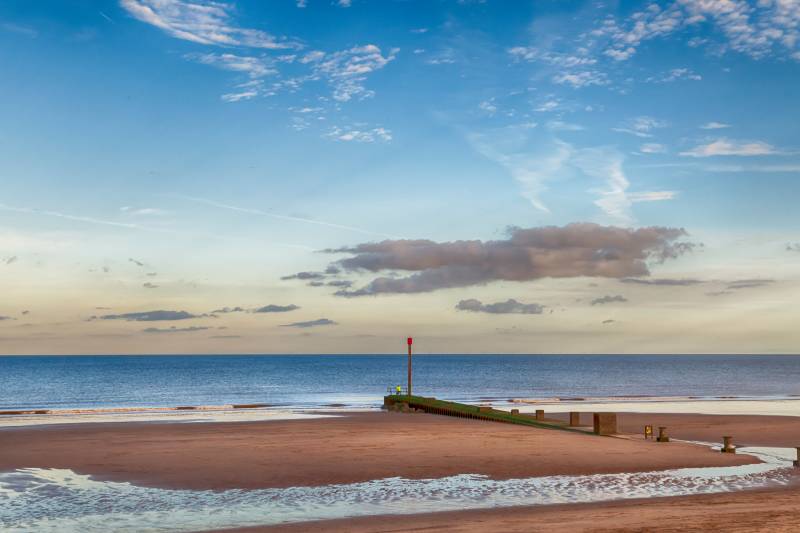 Mablethorpe
Get directions here.
Cleethorpes
This award-winning sandy beach has everything you need for a fantastic family day out – hire a deckchair or beach hut, and it's a great beach for surfing if the waves are good! Lifeguards are on duty for peace of mind, and dog restrictions apply. There is nearby chargeable parking.
Get directions here.
Saltfleetby-Theddlethorpe Dunes National Nature Reserve
Featuring sand dunes and saltmarsh areas, if you're looking for a more nature-focused beach then you won't want to miss the Saltfleetby-Theddlethorpe Dunes National Nature Reserve. There are many beautiful sites as well as protected flora and fauna for you to spend the day exploring. Dogs are not allowed on this site, and there is parking (chargeable) at several entrances.
Get directions here.
Ingoldmells South Beach
A Blue Flag-awarded beach, this is a long, sandy beach that is popular for swimming and walking. More built-up than some beaches, it's within easy reach of plenty of cafés, restaurants and shops. There is a large, multi-story car park nearby, and dogs are allowed on part of the beach all year round.
Get directions here.
Sandilands Beach
With the opportunity to spot some seals and a long sandy coastline, Sandilands beach is a fantastic getaway for the day. This popular spot is dog-friendly, and there are plenty of nearby places to get lovely fish and chips to enjoy by the sea. There is chargeable parking right next to the beach.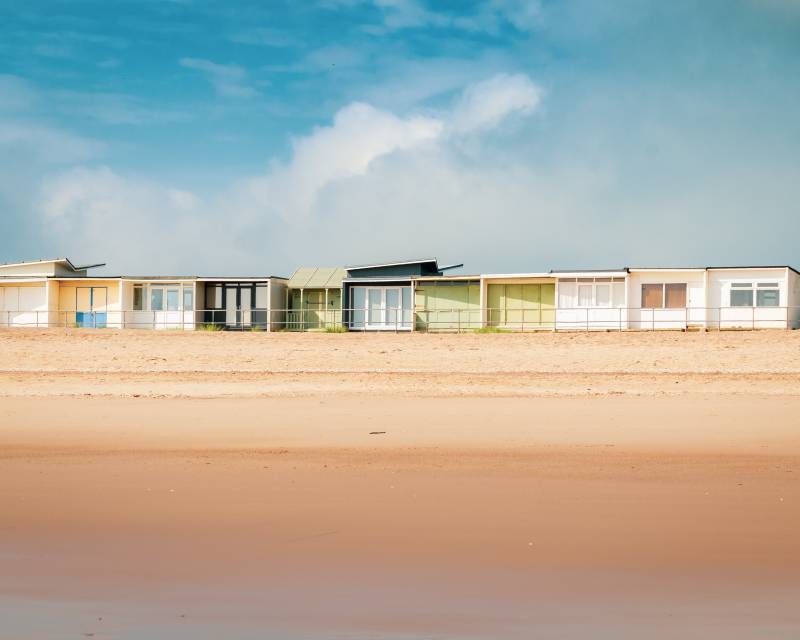 Sandilands Beach
Get directions here.
Moggs Eye Beach
Also known as Huttoft Beach, this is a quiet and rural spot backed by grassy sand dunes. There's plenty of room on the sand for beach games, and it's a popular spot for swimming, surfing, sea angling and birdwatching. Dogs are allowed on the beach, and there is a dedicated paid car park with toilets and a picnic area.
Get directions here.
Lincolnshire Coastal Country Park
Stretching along the Lincolnshire coast, the Coastal Country Park offers plenty of sandy beaches along with beautiful wildlife and picturesque views. Miles of walks are available for you to make the most of the sea air, or simply relax and enjoy a day by the sea. Dogs are allowed but must be kept under close control. There are multiple parking points along the coast.
Get directions here.
Bosworth Water Park (Man-made)
A man-made beach sitting beside a large lake, Bosworth Water Park has plenty of activities and attractions on offer to suit the whole family while bringing seaside fun to the landlocked East Midlands. The park is dog-friendly, as dedicated parking starts from £1.50 per hour.
Get directions here.
Chasewater Country Park (Man-made)
With a sandy coast area at the edge of the 90-hectare reservoir, Chasewater Country Park is another great option for those that don't want to travel all the way to the coast. Whether you just want to relax or take part in one of the many activities available, there's something for everyone to enjoy on a day out. Parking is £1 for 2 hours or £3 all day.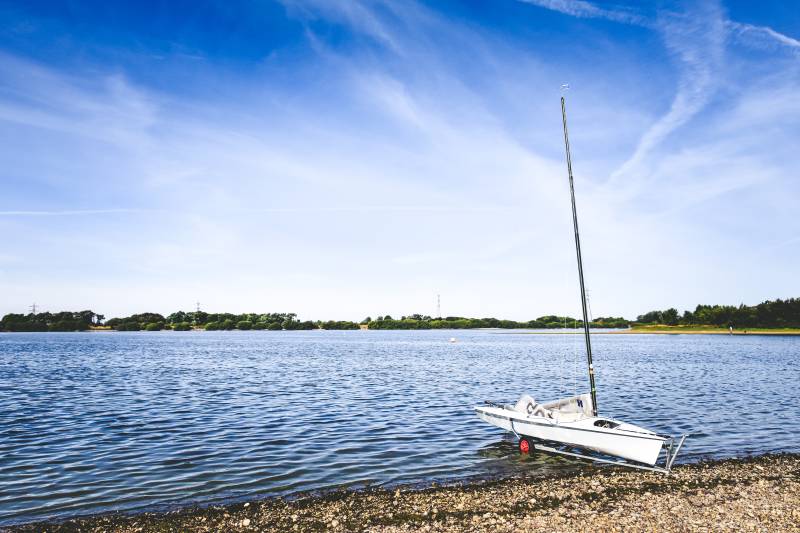 Chasewater Country Park
Get directions here.
Seen a beach you'd love to visit? It's time to pack up the car and take a classic family road trip! Just make sure you remember the essentials, such as music (Queen and Ed Sheeran are family favourites), snacks and drinks, and, of course, your buckets and spades!
The most important thing to remember is to make sure your car is up to a long journey – especially if it's not been in use for a while. Perrys can help with a health check and service for complete peace of mind before you set off. Looking for the perfect car for the trip? We think a spacious family SUV is just right for the job, offering all the comfort, space and power you need for everyone to enjoy the journey.
Our Perrys Recommendations or view our range of used cars::
Written by Perrys | 7 min read
21 Apr 2021