10 best beaches in driving distance (Buckinghamshire)
Is there anything better than a day out to the seaside when the sun's out? With a few more restrictions lifted, the year of the staycation is in full swing and it's the perfect time to reinvigorate with some fresh sea air. And because the UK is an island, we actually have a disproportionately large number of beaches – each with their own unique ecosystems and attractions.
Culture Southwest believes that the last year's many changes will make people more impulsive when it comes to days out, rather than planning day trips and holidays ahead – with this in mind, we've made it even easier to be spontaneous with a list of the top 10 closest beaches to Buckinghamshire! Next time there's a sunny day, simply choose one from below, get in the car, and go…
Three shells beach
A very well-known beach, this is Southend-on-sea's most central beach, offering access to the Pier, Adventure Island and numerous shops, cafes and amusements. There are plenty of things to see and do, so this beach is likely to get very busy in hot weather. Dog restrictions apply, and plenty of street parking is available (chargeable).
Get directions here.
Frinton-on-sea
If you're looking for a relaxing, sandy beach, Frinton-on-sea is the perfect place to visit – purposely remaining as uncommercialised as possible, it's the perfect beach for kids to have fun building sandcastles and paddling. Dog restrictions apply, and plenty of free and chargeable parking is available nearby.
Get directions here.
Holland-on-sea
For long coastal walks, Holland-on-sea offers a less developed, sandy beach for you to explore. A quieter spot with the chance to spot a variety of migrant birds, it's perfect for those who want to get away from the crowds. Dog restrictions apply, and there is chargeable parking nearby.
Get directions here.
Brightlingsea
A sandy beach backed by a colourful hut-lined promenade, Brightlingsea has a rich history as a fishing and shipbuilding area. It's now a very popular yachting haven and offers plenty of amenities such as cafes and fish & chip shops. Dog restrictions apply, and there are plenty of chargeable car parks nearby.
Get directions here.
Clacton-on-sea
Clacton beach enjoys a reputation as the jewel in the crown of the Essex coast, featuring a beautiful Victorian pier, golden sands and plenty of amusements and amenities. It's the perfect place to enjoy a taste of the classic British seaside holiday. Dog restrictions apply, and there is easy parking nearby, which is chargeable.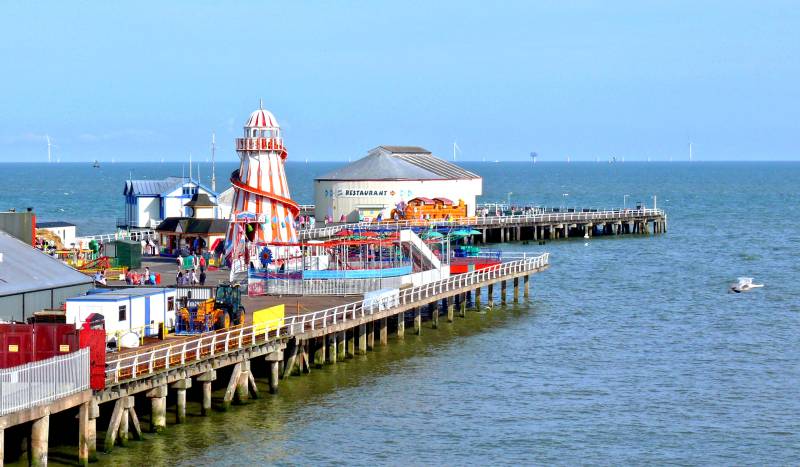 Get directions here.
Sheringham
Sheringham is a Blue Flag beach set in a traditional seaside resort, offering stunning cliff views and surrounded by picturesque, wooded areas. When the tide's out, you'll find fascinating rock pools to explore. Dog restrictions apply, and there is nearby chargeable parking.
Get directions here.
Hunstanton
Facing west, Hunstanton is one of the sunniest beaches in Norfolk and as such offers beautiful, dramatic sunsets in the evenings. Most famous for its striped cliffs, this is a sandy beach with plenty of rock pools to explore. The beach is dog-friendly year-round, and offers lots of parking (chargeable).
Get directions here.
Holkham
Holkham is a nature-rich beach offering white sands backed by dunes and pinewoods – perfect for exploring, it's part of one of the largest National Nature Reserves in the country, with many rare species of flora and fauna. It's dog-friendly but owners are encouraged to keep their canines on leads to protect the rare birds that live here. There is nearby parking, which is chargeable.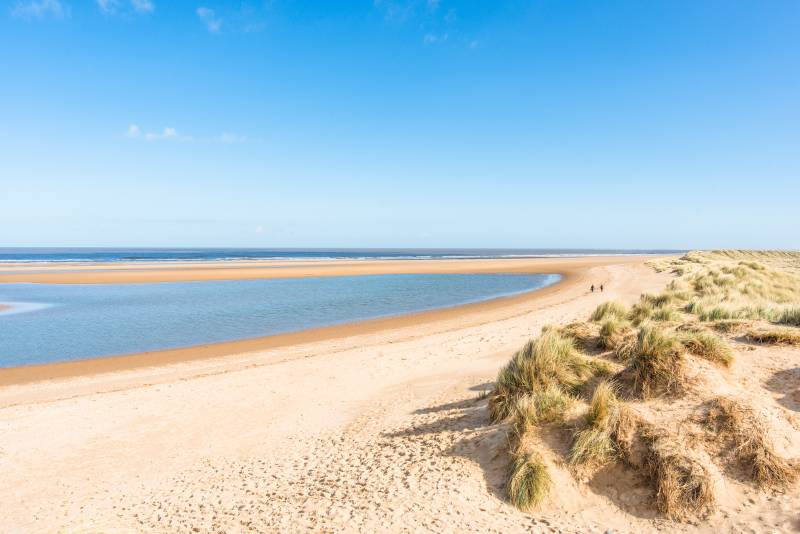 Get directions here.
Wells-next-the-sea
Award-winning, dog-friendly Wells-next-the-sea features all you could want for a day out by the sea. From miles of smooth sands to rows of colourful beach huts and an excellent café by the main beach car park, you'll enjoy every minute spent at this beautiful beach. It can be cut off quickly by the tide, which you'll be warned about by a siren. Parking is chargeable.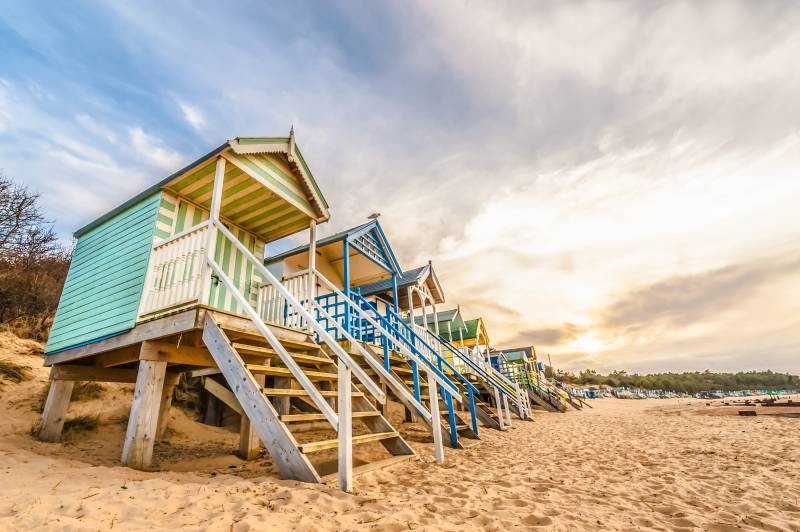 Get directions here.
Brighton beach
Brighton is one of the UK's most famous beaches, with a certified Blue Flag area with pebbly shores and a 4-mile-long promenade. You'll find all the classic British seaside activities available as well as excellent fish and chips to enjoy – hot days can get very busy, so make sure you plan ahead. Dog restrictions apply, and there is plenty of chargeable parking nearby.
Get directions here.
Seen a beach you'd love to visit? It's time to pack up the car and take a classic family road trip! Just make sure you remember the essentials, such as music (Queen and Ed Sheeran are family favourites), snacks and drinks, and, of course, your buckets and spades!
The most important thing to remember is to make sure your car is up to a long journey – especially if it's not been in use for a while. Perrys can help with a health check and service for complete peace of mind before you set off. Looking for the perfect car for the trip? We think a spacious family SUV is just right for the job, offering all the comfort, space and power you need for everyone to enjoy the journey.
Our Perrys Recommendations or view our range of used cars::
Written by Perrys | 7 min read
21 Apr 2021